SANDALS Grande St. Lucian Spa & Beach Resort last Friday commissioned a rejuvenation lounge for its employees, the first of its kind in resorts across the Caribbean.
Dubbed the Adam Stewart Rejuvenation Lounge, the facility sports La-Z-Boy chairs that provide full body massages and other equipment that provides head and feet massages and relaxing conveniences for staff.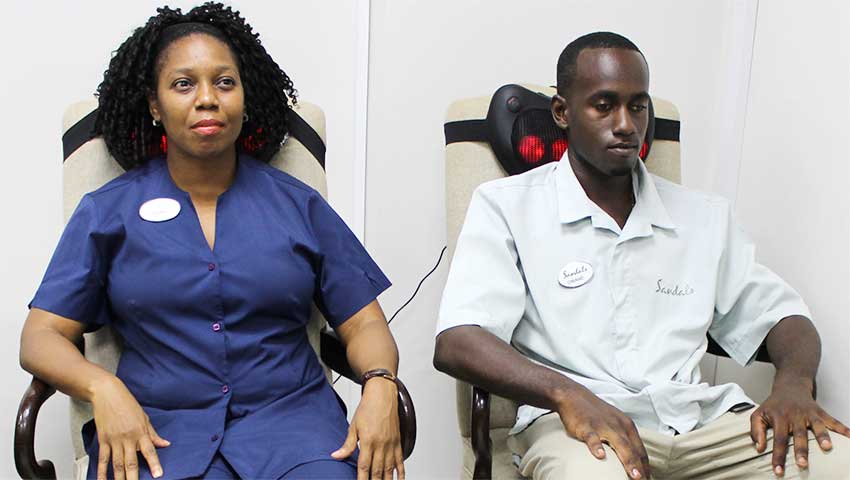 At the commissioning, it was stated that the new amenities will be duplicated at Sandals resorts across the region to emphasize the importance of the resort's human capital.
"The comfort of our guests is equally important to the comfort of our team members," said Alex Holder, Public Relations Manager of Sandals Resorts International (SRI).
Winston Anderson, the resort's General Manager, praised several people at the resort for ensuring that Sandals Grande became the first resort in the Sandals chain to open the rejuvenation lounge.
"As we all know, Sandals is an organization that believes in total luxury, total customer satisfaction and total innovation. However, our CEO and our Chairman believes very strongly that luxury should not only be for our guests. Satisfaction should not only be for our guests but equally our team members should experience it," Anderson said.
According to him, Sandals has a very simple philosophy which states that happy team members will in turn redound to happy guests.
"The Adam Stewart Rejuvenation Lounge is another step in that direction," Anderson said about that facility named after the Chief Executive Officer of SRI and the brains behind the conceptualization of the lounge.
Anderson quoted Stewart as saying that "You can have the best structure in the world, you can have the finest concrete, but if you do not humanize it by ensuring that our people are happy, then you will not gain success."
Ryan Matthew, Regional Group Manager of SRI, congratulated the team at Sandals Grande for pushing ahead with the project. He gave the team credit for moving with enthusiasm and pride to make the project a reality.
"I stand truly proud to be part of that organization (Sandals). Proud that I wear a badge saying 'Sandals' and a logo to represent the human resource and training division of this company," he said.
"This wellness center is a part of making sure you have the best experience as an employee of Sandals Resorts International," Matthew added.