WITH just a few days left, the Saint Lucia Hotel and Tourism Association (SLHTA) gears up for another exciting Caribbean Hotel and Tourism Association (CHTA) Taste of the Caribbean Competition.
The event is expected to draw participation from 14 islands and will be held from June 2-6 at Hyatt Regency Miami.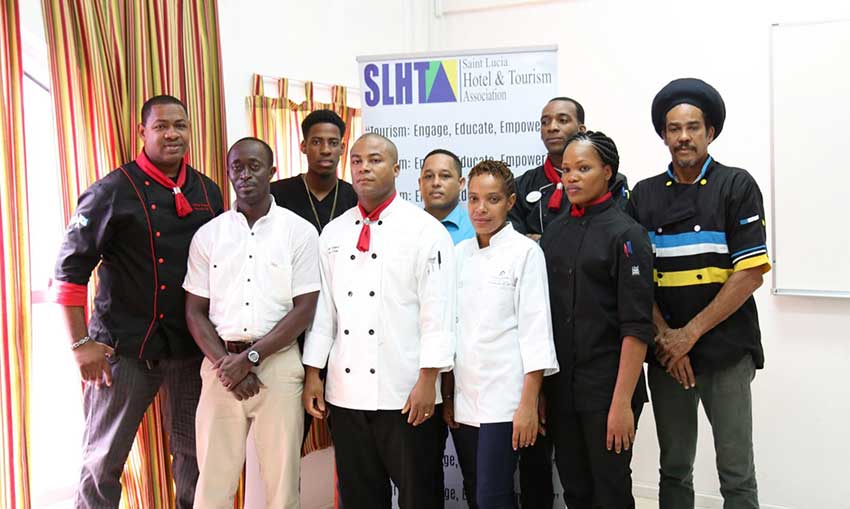 Saint Lucia is no stranger to culinary competitions, having participated in this particular event for well over a decade. Over the years, the Saint Lucia Culinary Team has performed exceptionally, winning several individual competition medals as well as the following awards:
• Caribbean Chef of the Year — Bobo Bergstrom (2003)
• Caribbean Bartender of the Year — Alva Preville (2010)
• Caribbean Junior Chef of the Year — Edna Butcher (2015)
This year is no different for the Saint Lucia National Culinary Team as they prepare and practice every weekend as a team, perfecting their signature dishes using as much locally-grown produce as possible. Although this year's team has never participated in the event before, they are confident that they can secure enough gold medals to win the coveted title of Caribbean National Team of the Year.
The Saint Lucia National Culinary Team is made up of the following Chefs and Bartender:
• Rodroy Thomas (Sandals Halcyon Beach Resort) – Team Manager
• Robby Skeete (Caribbean Pirates Restaurant & Bar) – Team Coach
• Niguel Gerald (Sandals Halcyon Beach Resort) – Chef of the Year Competitor
• Robert McDonald (Sandals Halcyon Beach Resort) – Pastry Competitor
• Kisha Prosper (Sandals Halcyon Beach Resort) – Chocolate Competitor
• Billy Mauricette (Cap Maison Resort) – Junior Chef Competitor
• Klent Abel (Capella Marigot Bay & Marina) – Seafood Competitor
• Nissa Paul (Windjammer Landing Beach Resort & Spa) – Beef Competitor
• Germain Sydney (The Body Holiday, Le Sport) – Bartending Competitor
The SLHTA is extremely proud of this year's team and the progress it has been making in preparation for TASTE 2017. A special thank you goes out to all sponsors of the Culinary Team including:
• LUCELEC – St. Lucia Electricity Services Limited
• Baron Foods Limited
• Monroe College (St. Lucia)
• Viking Traders
• Trans Caribbean 2000
• Lazy Lagoon Trading Company
• St. Lucia Distillers Limited
• Crown Foods Limited
• Superior Fish & Seafood Supplies
• Green Evolution
The team will host their final fundraising practice dinner at Capella Marigot Bay Resort & Marina on Saturday, May 27 from 7:00 p.m. Tickets are $159.00 per person and the event is open to the general public.