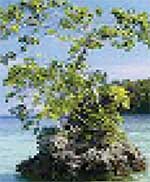 GLOBAL efforts to ensure a green environment and to minimize the effects of climate change all over the world have led to renewed emphasis on conservation laws. Throughout the Island Neighbours, many areas have been designated as forest reserves for various reasons. Some of these include the protection of critically endangered species, the promotion of eco-tourism and deliberate attempts to counteract indiscriminate deforestation in many areas. This week, we introduce to you some of the forest reserves in our Island Neighbours.
Introducing the Northern Forest Reserve of Dominica, a national park which boasts of 22,000 acres of land and national treasures, such as the national bird, MorneDiablotin and Syndicate Estate. Established in 1977, this park was originally a means of conserving the national bird, protecting watershed areas and enabling eco-tourism activities such as bird-watching.
Over in Guadeloupe, the Biosphere Reserve is home to numerous species of flora and endemic fauna. The area covers an estimated 20% of the Guadeloupe's land area and is recognized as the only national park of its kind in the archipelago. The reserve is typically composed of mangrove areas, coral reefs and what is hailed as "tropical humid forest".
The World Database of Protected Areas has recognized 23 protected areas in Martinique. These include AnseCouleuvre, Baie des Anglais, La Caravelle and Ilets de Sainte Anne. Like those which exist in Guadeloupe, these areas were reserved to protect water catchment areas, mangrove reserve, marine management areas, wildlife reserves and major forested areas.
How many of these areas are present in St. Lucia? How important do you believe them to be in an atmosphere of climate change? Tell us on our Facebook page: Island Neighbours.
Happenings
Earth Day is celebrated on April 22. We ask that you take some time to commune with nature on that day. Take a walk in the rainforest, plant a tree or send an eco-message to someone.
It's Jazz season in St. Lucia and Dominica. In the Nature Isle, the 8th Annual Dominica Jazz n Creole Festival rolls in on May 28, 2017. The festival, which will take place at the Cabrits National Park, features a Kiddie Zone for children and a wide array of Creole dishes. Patrons may bring along their coolers but a small fee is attached to that luxury.
Elsewhere, Flea Markets are big in Guadeloupe. In fact, major flea markets are held every month. When you finally decide to visit Guadeloupe, check them out:
Every first Sunday of the month: at the Darse of Pointe-à-Pitre
Every first Sunday of the month: near the beach of Raisins Clairs in Saint-François
Every second Sunday of the month: Place de la Liberté in Moule
Every third Sunday of the month: at the beach of Galbas in Sainte-Anne
Every last Sunday of the month: in Saint-Claude
Neighbourly GetAways
If you are in Dominica this week, a visit to the Syndicate visitors' center will certainly quench your eco-thirst. There you may inquire about the rainforest in the midst of modern interpretive displays which highlight our plant and animal species. Next, stop over at the Nature Reserve of La Caravelle. Enjoy all the peninsula brings – crabs, birds, poisonous tarantula and lush mangroves. Don't forget to bring along your camera! The scenic view will literally blow you away.
Let's go Shopping!
Calling all shopaholics! Shopping in Guadeloupe is indeed a therapeutic activity. Shopping centres are well-equipped with the latest in fashion, cosmetics and fine wines and spirits. Point-a-Pitre and Basse-Terre are ideal for domestic or commercial shopping. If you're a business owner, bulky shopping is available at cheap, convenient prices. You may even shop for your family, friend or simply immerse yourself in retail therapy. Live a little! Shop a little!
History
Historical note! Did you know that Dominica's first national park, Rosalie Forests, was established in 1975? Get to know your neighbours!
A bit of the French for the Visitor
The Green World
Nature Reserve – Réservenaturelle (régiongardéoùsont protégés les planteset les animaux)
Habitat – Habitat; maison
Mangroves – Manglier, palétuvier
Wetlands – Zones humides
Coral Reefs – Récifcorallien
Protected Area – Zone protégée
Wildlife – faune; flore
Endangered Species – Espècemenacée
Critically Endangered Species – Espècesenvoied'extinction
Conservation Laws – Lois de la conservation
Is the nature reserve open today? – C'est la nature réserveouverteaujourd'hui?