THE movement to have Saint Lucia-born war hero, Jean Baptiste Bideau, named a national hero is growing even stronger, especially with this month marking the bicentennial of his death.
Born in 1780 in Desruisseaux, Bideau lived through three major revolutions: the American War of Independence, French revolution and Latin American War of Independence, and was related in some way with all three.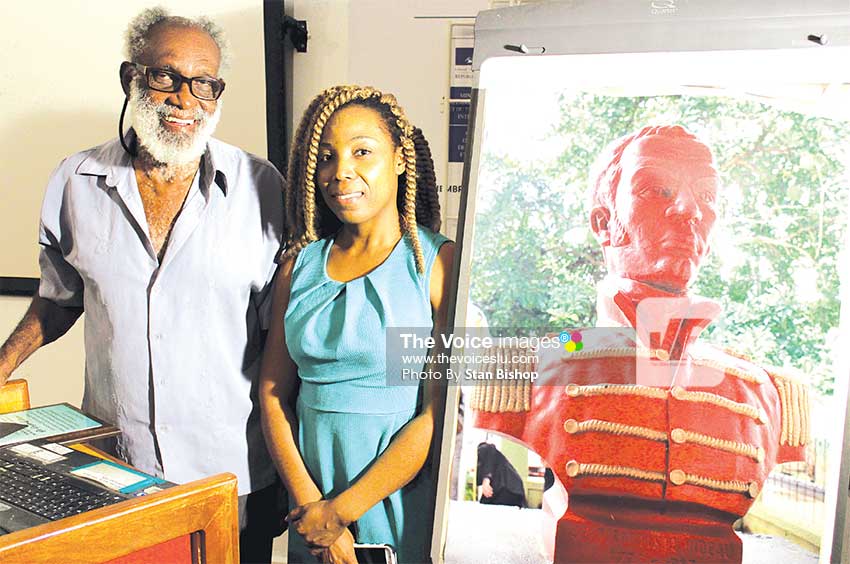 Until 1794, Bideau lived mainly in Saint Lucia before leaving the island to serve for the next four years as a corsair (privateer) in the French Revolutionary Government. In 1796, Bideau, who was Captain of the Cinciannatus, a ship that formed part of Victor Hugues' navy, escorted Baudoin on secret diplomatic missions to Puerto Cabello.
He lived in Trinidad from 1798 to 1811, taking up professions there as a boat builder and trader between Trinidad and neighbouring Venezuela. From 1811 through 1817, he was involved in the Wars of Independence of Latin America, fighting alongside Venezuelan liberator, Simon Bolivar, and was killed in battle on April 7, 1817.
Some years ago, busts of both Bideau and Bolivar were erected in Bideau Park, located near Government Printery in Castries.
Many people, especially Saint Lucians, remember Bideau for two things: that he was born here and that he once saved Bolivar from drowning. However, there is a growing suspicion among many that historical records relating to Bideau's life and his heroic acts have been suppressed.
Historian Dr. Gregor Williams, who delivered the lecture — "Bideau, A Man of His Time" — at Alliance Francaise last Wednesday evening, said the cover-up was a strategic one.
"When the British took over, people who had accomplished things were French," Dr. Williams told The VOICE. "So (the British) kept them away from our history and literature and records so that they were not known to the people who came in during the British colonial period. But I think that we have also not done enough to promote those people."
Dr. Williams said he was part of a committee to establish the terms for determining National Heroes. Among the criteria is that Saint Lucians who had accomplished things not only in Saint Lucia, but worldwide, should also be recognized as National Heroes. Bideau, he said, "would come high up in that group."
"Bideau was extra special. But we've had Saint Lucians, especially from during the same period as Bideau, whom we need to recognize and commemorate like we do Bideau," Dr. Williams said.
He added: "He's a fascinating guy. But what strikes me most about him was how much he cared for people, the soldiers he fought with and how much he respected the enemies he fought against."
Joanna Andrew, a descendant of the war icon, said her father, Maurice Bideau, who is also from Desruisseaux, told her the story about her ancestor recently. As a child, she said she knew nothing about any war hero who had fought for Venezuela's Independence. Things, she said, got worse when she made her search for her past.
"After my father told me the story, I went on Google but found nothing there (on Jean Baptiste Bideau)," Andrew told The VOICE. "I found it very strange that this man would have done so much (was not documented). What really struck me, too, was that I never learned anything about him at school."
While Andrew could not pinpoint how many generations away she was from the famed war hero, she said she has since reached out to the Venezuelan Embassy so as to piece together the puzzle about Bideau's life and have him recognized in the best possible way. she believes he should be made a national hero.
During the Independence celebrations two years ago, Saint Lucia's first national heroes were named posthumously. They are former trade unionist, politician and Chief Minister Sir George Frederick Lawrence Charles and former Prime Minister Sir John George Melvin Compton.
"I feel overwhelmed but also know that there's a lot I need to do to get him the respect and recognition he deserves," she said. "I really want to see his legacy live on and that it is taught to the youth of Saint Lucia."
With next week designated "Bideau Week", during which the Venezuelan Embassy will host several activities, Andrew said the large Bideau family based both here and overseas, will be participating in the celebrations. Some relatives have even returned to the island for the events, she said.
During a special session of Parliament held in Saint Lucia in October 2015, Venezuelan President, Nicolas Maduro, proposed the creation of a high-level commission between Venezuela and Saint Lucia for the bicentennial of Bideau. Dr. Williams, too, believes the war hero deserves the status of national hero.
"History has to do with identity: who you are, where you came from. What's important is that it's not for the past but for the future. So history is very important," Dr. Williams said.