THE $1.5 billion budget for the 2017/2018 fiscal year, the largest ever to be presented in the House of Assembly, is not large enough to take care of the needs of the people.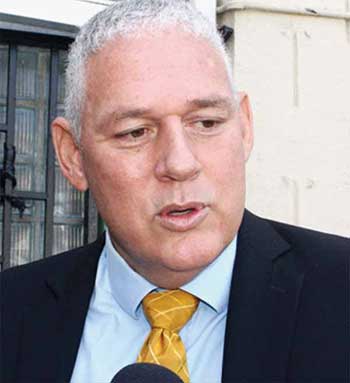 Prime Minister Allen Chastanet made the disclosure Monday, just before meeting with his Cabinet colleagues for the last time before presentation of this year's Estimates of Expenditure in Parliament.
"There are a lot of people in in this country that still need help. Look at the state of our roads, our hospitals, our schools, and our judicial system. The budget is the best that we can do at this time, but it is not enough," Chastanet said.
He added: "There is not enough money in the budget. None of us are satisfied that we have been able to fill all the gaps that need to be filled but we are satisfied that we are heading in the right direction and that we are having to make some difficult decisions as to what our priorities are going to be ," Chastanet said.
During his presentation in The House yesterday he said the budget forecast a modest improvement in the country's revenue growth and an expanded capital programme in support of stimulating economic activity.
"The structures and processes we currently have in place have been failing the people of St. Lucia and being an inhibitor in preventing the government from being able to implement its programmes," Chastanet said.
The debate on the Estimates of Expenditure will continue today and expected to highlight, a number of issues reflective of Chastanet's assertion that the budget is not large enough.
In his presentation yesterday, he said the $1.5 billion budget expenditure is inclusive of refunds and principal repayments of $124.5 million.
"At this level, the budget targets a primary deficit of 1.1 percent of GDP and an overall deficit of 4.7 percent of GDP," Chastanet said.
According to the Prime Minister, total expenditure, excluding refunds and principal repayments, is estimated at $1.379 billion while total revenue and grants are projected at $1.158 billion.
"When taken together this results in a projected overall deficit of $220.9 million, which is equivalent to 4.7 percent GDP," Chastanet said, adding that $124.5 million for principal repayments is added to arrive at the total financing needs of $345.4 million.
His answer to putting more money in government's coffers is to get investors interested and willing to invest in the country.
Claiming that getting investors into the country to generate new jobs was his number one priority, the Prime Minister added that his mandate in the next three years is to grow the economy.
"That is why I have a difficulty with some agencies continuously fighting the need to grow," Chastanet said, adding that to those agencies 'investment' seems to be a bad word.
"We need to change that. The question is how do we get more revenue for the country?" Chastanet asked.
The answer, he believes, lies in lower taxes which will help in making the country more competitive to encourage local, regional and international people to invest in St. Lucia.
"That is job number one," he said.
Another concern of the Prime Minister is the interest to be paid on the various loans the country has. He said the former government increased the country's debt by a billion dollars during its five years in office, a time in which the economy grew by less than one percent per year.
With the budget for this financial year dependent on grants from friendly governments to a large degree, it is not to clear whether all will come through but Chastanet said the government has been putting itself in a position to get support.
"Governments are now looking inward. The bottom line is that we are seeing a reduction in the world in terms of aid and it is making it much more difficult and we will have to be much more creative in what we are doing moving forward," Chastanet said.
This was more or less emphasized by Governor General Dame PearletteLouisy when she delivered the Throne Speech to both houses of Parliament Tuesday.
St. Lucia, she said, confronts tremendous challenges and the people, she added, need to be visionary, courageous and steadfast. Dame Pearlette called on each St. Lucian to commit to the sustained development of the country.
Government, Dame Pearlette added, will introduce novel programmes in education, health, the social sector, climate change, and energy and justice reform so as to lift St. Lucia from the quagmire of economic stagnation and social apathy that it is in.