Making Visible the invisible
Time To Celebrate Working Class Women
At The Landings Resort and Spa March 8th 2017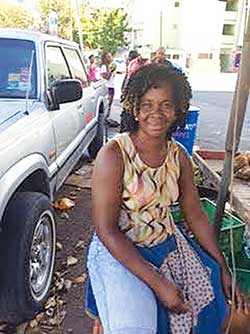 Name: Juliana Alexander
Marital Status: Single
Occupation: Beautician
Children: 1
Address: born in Leslie Land now reside at Bonne Terre
I am a qualified beautician and the owner of Head Masters hair salon in Castries. I grew up in Leslie Land and now reside at Bonne Terre and I am the single mother of one son. I was trained and certified at the Wilfred Academy in the USA and then enhanced my capacity and skills through an internship programme in London, England.
After completing secondary school at 19, a friend introduced me to Miss Monica Giraudy, then the business owner of one of St. Lucia's leading hairdressing salons. Ms Giraudy interviewed me and I landed the job right there and then.
Upon Miss Giraudy's retirement, I took over the management of the operations of the business and after seven years, bought it over. Over the years I was able to use my experience and was instrumental in shaping and training many young women in becoming hairdressers, with some even going on to open their own salons.
Even after experiencing harsh economic setbacks, robust competition and the 'natural hair' era, I have been able to sustain 28 years in the business. Today, I can say that I remain a strong competitor in a dynamic and innovative hairdressing company.
I can attribute my success partly to the advice handed down to me by my mentor Ms Monica Giraudy; keep standards that encourage the client to keep coming back. In addition to that, I believe that maintaining customer's confidentially is paramount and always keeping abreast with new trends has given me the extra edge.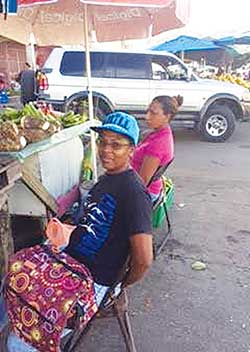 Name: Verlin Isidore
Children: 3
Occupation: Market Vendor for 7 years
Address: Born in Choisuel , lives in Venus Millet
I worked in a supermarket for 16 years. After leaving that job I decided to set up a tray at the market. I started off with a small tray selling a number of items. Over the years, I have extended my tray and now sell and make some of my own products.
I make the jams, coconut oil, hot pepper sauce, my sister makes the castor oil and cocoa sticks. I make all the spice rums and cane rum. The other spices I buy from the other retailers. Sometimes it can be challenging because there are days when I don't make much money but I stick at it.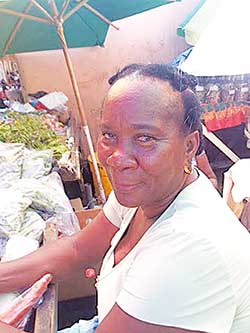 Name: Shatal Simon
Children: none
Occupation: Farming / Market Vendor
5 years as a market vendor
Address: Born in Babonneau and still live in Babonneau
I worked as a pastry chef for 4 years but I was made redundant. To begin with I started off in the market assisting my grandmother. However, she became ill and was not able to continue working her market stall. I decided that I enjoyed working at the market and continued to come every day. It was my choice to do so.
I enjoy being self-employed, I can set my own hours and it's more profitable to me. There are good and bad days, days that are more profitable and other days that are not so good. I purchase most of my produce which means I am up at 2a.m. to buy from the framers and I work my stall till 6p.m. on a Saturday . On weekdays I am up between 4 a.m. and work till 3 p.m. because it's a less busy time. I work hours to suit myself and despite the challenges I prefer working for myself.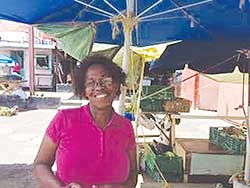 Name: Margaret Rampal
Marital Status: Single
Children:5
Occupation: Farmer/Vendor for 25 years
Address: Marc still lives in Marc
I started farming from very early because both my parents were farmers. The choice of going into farming was a natural progression because that's all I knew. I didn't want to do any other job than to become a farmer. Agriculture is my life, when I had my children I would take them to market with me, I would put them in a box to sleep and as they grew older they would leave from the market to go to school. I am awake at 3a.m. most days to cook and have the children ready, to leave my house at 4 a.m. On Fridays I am up at 1am and start the process all over again. I am at the market till 4p.m. then get home and go into the garden. It is a difficult job but that's all I know and I enjoying doing my job.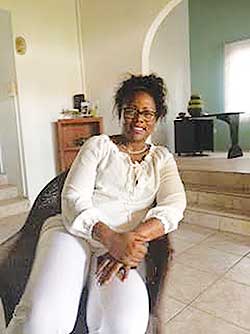 Name: Roselyn Charles
Marital Status: Single
Children:5
Occupation: Craft Vendor for 40 years
Address: Born in Marchand now lives in Monchy
I was raised in the market with my mum. I used to sell outside the market with her and we were here every day. When I left school, I found a job but left after only a week and came back to the market to sell with my mum. The majority of my products are bought locally but I like to give customers a variety and I travel to the United States to buy other items to make it more interesting on my stall.
I love being an entrepreneur and would normally start work from 6 a.m. to 6 p.m. every day. I sometimes work 7 days a week depending on whether there is a cruise ship in port. Otherwise I work 6 days a week. My job is sometimes challenging, especially with customers who try to bargain with you and pay you less than your product is worth. It is challenging but I am satisfied with my job.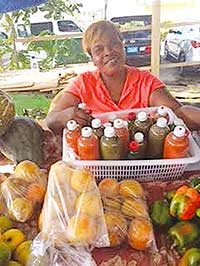 Name: Ann-Marie Baptiste
Marital Status: Single
Children:1
Occupation: Craft Vendor
Years in the Occupation: 32 years
Address: Born in Castries lives in Castries
I worked in a department store as a sales assistant and I enjoyed selling. I was very good at selling and my mum suggested that I open my own business. I took over the stall my mum worked at, and I have now increased the number of stalls I now rent. I feel it's important that you aspire to get bigger and because I wanted to grow my business I now have several stalls. There are downsides to doing this sort of job. For example people don't always get along with you on the job but you just have to take it in your stride. The other thing is you have to be prepared to work 7 days a week. You don't get holidays especially if a cruise ship is in port and be prepared to work on a Sunday.
Over the years because the economy has slowed down, the sales have has decreased as well. The prices of local products have increased which means that I have to pass this onto my customers. In addition, some customers can be pleasant and other times very unpleasant and rude. My son who is 32 years old and works with me. Sometimes the job of selling can be difficult because there are high and lows, other days the earning is good but there are equally bad days too.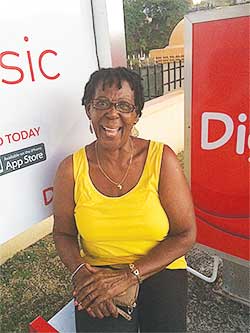 Name: Romila Ferguson
Marital Status: married
Children: 6
Occupation: Craft Vendor
Years in the Occupation:
Address: Born in Marchand lives in Marchand
I grew up in the market with my mum. She was a market vendor selling sweet potatoes and other ground provisions outside of the market. At times, myself and sister would be out there selling with her too. When my mum passed away we took over her stall and continued to sell outside the market.
When the City Council decided to transform inside the market to a craft market I found my own stall. I work 6 to 7 days a week and most times from 6:00a.m. to 5:00p.m. On are some days, things are very good in terms of sales and other times not too good with poor sales. The market has also changed. For example, there is no standardised pricing like before because other vendors in the market sometimes offer a better price than you can. The market vendors have become more competitive with their pricing structure and therefore the work has become arduous.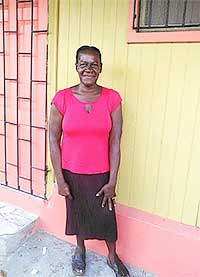 Name: Maria Papin
Marital Status: married
Children: 4
Occupation: Craft Vendor
Years in the Occupation: 7 years
Address: Born in Millet now lives in Beausejour
I worked at Roseau Distillers for 3 years before becoming a craft vendor. I was also playing cricket and represented St Lucia 5 times at national level. Whilst playing cricket and to supplement my earnings I started selling ground provisions outside the market and did that for 15 years. I just wasn't earning enough money playing cricket and it didn't pay my bills. During this time a stall inside the market became vacant and upon discussion with my husband I decided to make the transition to a craft vendor.
I am at the market 6 to7 days a week most days from 7am-6pm if a cruise ship is in port but other days I work from 7:00a.m. to 4:00 p.m. There are down days when you don't make any money nevertheless, you might have a good day where you have earned enough to make up for the lost days.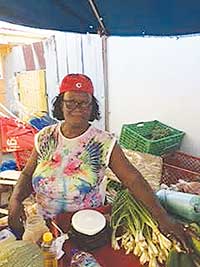 Name: Lindell Biscette
Marital Status: married
Children: 3
Occupation: Farmer
Years in the Occupation: 25 years
Address: Born in Cul de Sac now lives in Babonneau
I was introduced to farming when I married a farmer. I thoroughly enjoyed farming and working with my husband. However, there was an opportunity to start a project and I started planting celery, parsley and lettuce on my own which I sold to the supermarkets and at the market. A few years ago, there was a video by the Ministry of Agriculture and my farm was featured on it.
About three years ago, I started growing Kale which I supply to the supermarkets, I stumbled upon Kale by accident when I saw a lady selling it at the market. I went back to my home and conducted some research and it started from there. I also supply seedlings to order from other farmers such as Pak Choy, lettuce, and parsley. They are very good sellers. I only supply seedlings based on orders. I also sell collard greens, swiss chard and a variety of sweet peppers that you can eat in its raw state. They are of various colours. I sell these to the supermarket and sometimes at the market too.
The challenges we face are seasonal with issues to do with the water supply. During the dry season the water supply is more restricted and the other issue is to do with the pricing of my produce. I feel at times the prices I receive for my produce are not reflective of the effort and hard work I have to exert to produce a first-class product. Having said all this I thoroughly enjoy farming.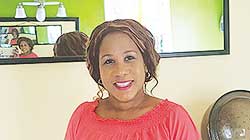 Name: Benita Jules
Marital Status: married
Children: 3
Occupation: Farmer/ vendor
Address: Born in Dennery still lives in Dennery
I worked at a factory for 3 years but pervious to that I worked at another job for 2 weeks. I love farming and have been farming all my life. I started farming with my parents because they were farmers. I am at the farm on weekdays from 7:30 a.m till 4:00 p.m. However, on weekends I'm at the market selling my produce from 5am to 7:00 p.m. What I don't grow myself I purchase from other farmers and sell at the market but at times buying from other farmers can be expensive.
Nonetheless, I love my job and will noy want to do anything else. There are times when it is more profitable than others but you need to learn how to manage your business. It's about learning to sell, and knowing how to reinvest that money back into your business. It's not only about learning to add and subtract but about using your money wisely. I think that people walk past and look at me like I'm nothing and not realise that if I'm not able to manage my business well I won't be able to support my family. I deserve some recognition for all my hard work and the contribution that I make to society.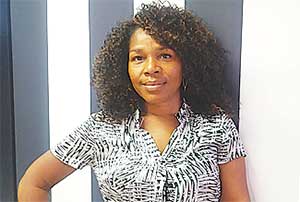 Name: Denis Joseph
Children: 3
Occupation: Farmer/ vendor for 17 years
Address: Born in Bel Air La Croix lives in DeniereRiviere
I have been working as a farmer for 17 years. I started work as a maid but the lady who employed me mentioned that I would earn more money working as a farmer. She stated that farming would pay me more money than she can ever pay me. I listened to what she told me and decided to go into farming.
I started by planting one crop and that was eggplant and after that I progressed to planting pineapples and other vegetables. I work on the farm on week days most days starting at 8:00 a.m. till 12 noon. Usually we may not go back after lunch but that's entirely dependent on how hot the sun is. It can be very hot in the afternoon and we just make a determination on whether to go back or not. Saturdays I am in the market from 5:00 a.m. to 7:00p.m. selling what I have grown and other produce. Farming is seasonal and there are times when it's plentiful and other times not so much.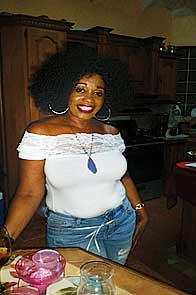 Name: Lucy Charley
Marital Status: Single
Children: 3
Occupation: unemployed
Address: Born in Choiseul now live in New Village
I have been unemployed for the past 7 years but I'm supported by my children. I became self-employed when my grand daughter was born. My son was very young when she was born and I thought that I needed to support them. I have had my grand daughter from the time she was a baby. I became self-employed when she was 4 years old. Previous to the birth of my grand daughter, during the 1970s I worked at various restaurants to support myself and my boys. When she came along I thought to myself that it was going to be tough raising her and decided to become self -employed. At first it was difficult for me because I felt that people looked at me like I was dirty and didn't like me. I was so embarrassed and I thought that I wasn't clean enough for them.
Nevertheless, people grew to know me. I prepared the foods the previous night to sell at offices in the city. I made corn bread, cakes, roti, pastries, dahl and local juices and walked every day to sell from Monday to Friday. As she grew older she was able to help me out by making juices. It was a job and I liked meeting people. Doing this job, I was able to pay off my mortgage and to support myself and my grand daughter. Every week when I earned sufficient money I would send her to the bank to make the payment on the mortgage. It was a tough job because I walked everywhere, every day. I am unemployed right now and wanted to open a small place but unfortunately, I have problems with my eyesight and I'm not able to start anything new.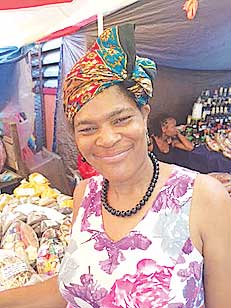 Name: Veronica Laurent
Marital Status: Single
Children: 2
Occupation: Farmer/ vendor 38 years
Address: Born in TiRocher, Castries now lives in Babonneau
I worked in the hotel industry for 6 years. I decided to go into farming because of my partner at the time. I enjoy working for myself. I normally work on the farm 4 days a week. I normally have to leave my house by 3:30a.m. to get a ride into town because I don't have a vehicle and it is a long walk from my house to the bus stop. I leave the market between 4 p.m. and 5 p.m. to return to my house.
At the weekends my daughter is in the market working because I have to look after my elderly mother and also my older son. He is disabled but is very independent and does a great deal on his own. During the drier season its challenging but I persevere. The other challenge I encounter is there are now more vendors in the market. When I started in the market they weren't that many vendors working here and the numbers have increased making it more competitive. Anyone can start their business in the market nevertheless, I enjoy what I'm doing.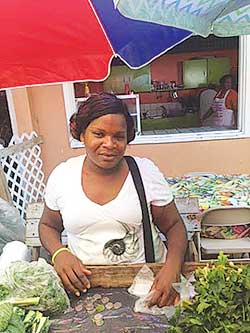 Veronique Ismael
Marital Status: Single
Children: 3
Occupation: Market Vendor
Address: Born in Millet still live in Millet
I have been a market vendor for 28 years. Previously I was a teacher but unfortunately, I had to leave teaching because at that time women who were unmarried but had children were not allowed to remain as teachers. At school, I topped my district in Mathematics. I had very little options but to try to support myself and my children.
My parents owned a farm and I decided to go into farming. I started off selling fruits from the farm, such as oranges, grapefruits and tangerines. I work at the market 5 days a week leaving my home by 4 a.m. to get to the market and I'm there till 5 p.m. I buy the bulk of my produce from other farmers to sell to customers. This profession is sometimes difficult but nevertheless, this has enabled me to remain self-sufficient and to support myself and my family.
Buying from other farmers can be competitive but the other issue is the conditions at the market. We are expected to pay for storage facilities at a stall for which we are charged a daily fee. However, the council then sublets our stall to other vendors. In addition to that we are then charged another fee for selling our produce outside of the storage area. It doesn't seem fair because over the years the cost to us increases and in addition when it rains the area outside the market becomes flooded. We have very little shelter which we provide ourselves and working in these conditions is not particularly pleasant. Nevertheless, I continue to work and support my family.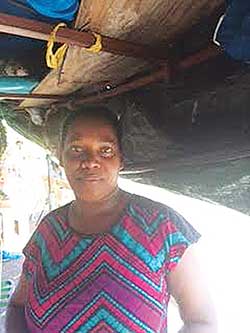 Name: Lucia Zephruin
Children: 4
Occupation: Beauty Therapist
Address: Born in La Clery, lives in Reduit Orchard
Upon leaving school, I started training as a seamstress. Whilst being trained a lady walked in and stated that she was looking for clients. She had recently returned to St Lucia from the United Kingdom and was looking for clients. I suddenly thought to myself that I would like to do that too nevertheless, I continued my training and not giving it a second thought. That same evening my brother told me that there was going to be an event at the hotel but I was not really interested in going. However, at the same time a friend who lived next door come over and persuaded me to go to the event. I attended and whilst there one of the managers told us that they were looking to employ people to work as therapist. The next day I sent in my application and was hired to work in the Spa.
I was sent for training in Germany, I also trained in London and was also given on the job training. I continued to work and train at Le Sport and worked there for 8 years, I was eventually promoted to a supervisor and eventually became the in-house trainer where I trained about 25 new recruits in the theory and practical aspects of the job.
I eventually left and worked at the Royal St Lucian hotel as a therapist. Within a year I was promoted to the supervisor and eventually the Spa manager. After working there for 5 years the Spa was closed for refurbishment and I found employment at the Windjammer Hotel for 3 years as the Spa manager. I left and started my own business at Bay Gardens Inn and eventually moving the business to my home. I employ 4 to 5 women but I mainly employ women who have encountered challenges and have trained them to become self- sufficient.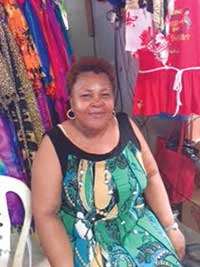 Name: Mildred David
Children: 7
Occupation: Street Vendor
Address: Born in Monchy but live in Monier
I became interested in farming and vending at the age of 7 years because my parents were farmers. I was taken to the market with them and I always wanted to sell. When I started secondary school at the Girls Vocational School before I went to school I would go to the market to sell celery and parsley. I would put a top over my school uniform so as not to get my uniform dirty. When it was time for school I would leave my unsold items with a lady at the market and go to school. After school, I would return to the market and continue to sell what I hadn't sold earlier I would do that every day.
I work 7 days a week and I am up daily at 1:30 a.m. to go to the market to buy from the farmers, I get back to my house by 4 a.m. where I shower, have something to eat and set off to start my stall at 5 a.m. It has been challenging because I started off selling in the William Boulevard and was hounded out by the police. It was very tough. I moved to Rodney Bay but again the challenges started and I had more issues with the police. When I first started here at Rodney Bay there were 7 vendors selling but yet again the police hounded us. However, I refused to move and have remained out of sheer determination.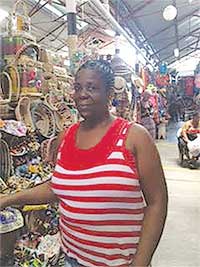 Name: Teresa Eudovique
Marital Status: married
Children: 4
Occupation: Farmer of 22 years
Address: Born in Bogis lives in Bogis
I have been in farming all life, my parents were farmers. At 16 years I worked at the MacquisEstate for 2 weeks. I left soon after because I got a job at a hotel as a pot washer. I worked as a pot washer for 4 years and was promoted to a cook. I worked as a cook for 12 years and during this time I had my children however, after my last child was born I was ill and decided that I didn't want to go back to this job.
I subsequently went into farming with my husband who was a farmer. However, during this period of working with him we seperated but nevertheless I continued to do it on my own. I started off planting one crop at a time with cucumbers and I gradually started planting other crops. I have had a great deal of assistance from the IICA , and have managed over the last 10 years to purchase my own water system.
It has been tough especially with my last child. I sell at the market on Tuesdays and have to leave my home at 5a.m. every day and don't get back until 7p.m. On Fridays, I sell to the hotels and again I'm not back till 7p.m. The other days are all early starts at 5a.m. and long days. It has been challenging but I've managed to support one of my sons whilst he was in Cuba on a scholarship. All my children have worked on the farm and have continued to work on the farm despite having day jobs. My other son is a teacher but he's on the farm working with me in his spare time. It has been tough but to become successful you have to work at it to become better.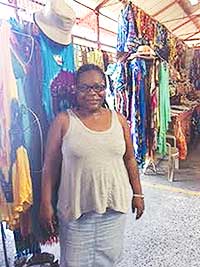 Name: Jane Joseph
Marital Status: Married
Children:7
Occupation: Market Vendor for 22 years
Address: Born in Jacmel but lives Babonneau
I worked in Apparel for 7 years as a seamstress. When I left Apparel I started off selling bananas at the market. Every day I would sell $30 bananas. I collected the bananas from other people or from the tree and would be at the market every morning to sell. I did that for a year. Whilst selling the bananas I realise that they were sold off very early and I needed to earn more to send my children to school. I decided to start buying produce from other people and increased what I was now selling from only bananas to other fruits and vegetables.
I am at the market very early from 5a.m. in the morning till 6p.m. on weekdays and on weekends from 2.30a.m. till 7p.m.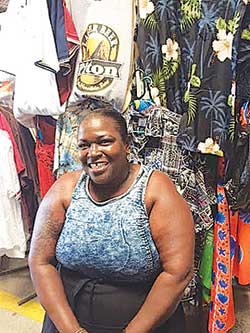 Name: Stella Paulious
Marital Status: Married
Children:4
Occupation: Hair Dresser/Stylist ,15 years
Address: Born in Marchand, lives in Grand Riviere
I grew up with 5 sisters and from quite early on I loved beauty, doing hair and nails for my sisters. As a result of my passion for beauty and hair I started working for my sister. I worked for 7 years with her and left to work at Office Shop a job I did for 4 years.
Eventually I left Office Shop, and opened a restaurant for a year. However, this was very challenging because I had very little time to spend with my family. I was up very early to prepare breakfast and then start the lunches with very little time to spend at home before having to be back to prepare meals for the evening. I decided to go back to hairdressing and took a position with another lady where I stayed for two years.
Eventually I went back to my sister but this time I rented a chair from her. About a year ago, I decided to start my own business because I felt it was the right time for me to do so. I have my own clients who have supported me and have continued to support me. It has its challenges but I don't regret going on my own.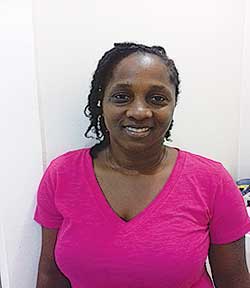 Name: Juliann Charles
Marital Status: Single
Children:3
Occupation: Hair Stylist , 26 years
Address: Choiseul lives at Union
I was raised by my grandparents and soon after leaving secondary school I left them and went to live on my own. I was fortunate and travelled to Barbados to train at the Carmen Institute for hairdressers. My training at the Institute was for a year and after completion of my training I remained in Barbados for another year. Upon my return, to St Lucia I was employed by Classic Hair Design at Rex St Lucia for 8 years. I left Rex St Lucia and went to St Croix where I refined my skills at a small institute with a group of Dominicans. I trained for 6 months but remained in St Croix for a further 6 months.
I returned to St Lucia after being away for the year and was employed by Norma's Hair Design for a year. I left after the year and once again returned to Classic Hair Design for a period of 4 years. It was during this time that I was offered a position from a Beauty Salon to manage her establishment. I took the offer and managed Tina's Hair Design for 4 to 5 years. However, she decided that she no longer wanted to keep a business at Rodney Bay. Fortunately, I was given the opportunity to purchase the business and I bought it.
I have been managing a small business for 19 years and there have been challenges. The hair dressing business has changed especially when you don't own your own premises. It means that I have to relocate ever so often and it means that I'm back to square one, it's like starting all over again. Last year I trained with the Cecile Hair Institute to further develop my skills and to remain relevant and on trend in a fast moving industry. I attend seminars that are available and I also have interns to train and develop their skills. Nevertheless, I have continued to train and refine my skills as a hair stylist.
Sponsors of the event
The Landings Resort and Spa
SLHTA
St Lucia Distilleries
Peter and Company
St James Club Morgan Bay
Palm Haven
Bay Gardens Resort
Capella Marigot
Orlando's Restaurant
Serenity Vacation and Tours
Chateau Mygo
Kalabash Cove
AubergeSeraphine
Cool Water Day Spa
Hair by Julie's
Divine Touch by Stella
Feng Shui Day Spa
Arubah Holistic Care
K-Cha Clothing
Ladera Resort
J. E. Bergasse
St. Lucia