Central V Fort vs VSADC Today
A massive crowd is expected to converge on the Phillip Marcelin Grounds in Vieux Fort today as the Veterans In Sports Inc. football tournament continues for the Caribbean Alliance Gold Cup, $10,000 dollars and gold medals.
From 8:00 p.m., Central Vieux Fort will have all to play for and will want to defeat former veteran champions, VSADC to continue the good fortune already established by their neighbours, Vieux Fort South.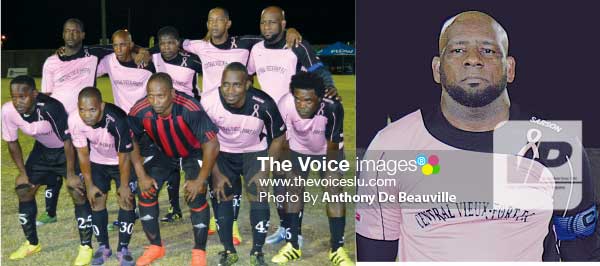 Vieux Fort South has won the Saint Lucia Football Association Under-15 Girls' tournament played in June, the Blackheart knockout tournament in October, the SLFA Men's Under-21 tournament in December, and the Veterans in Sports Inc. Flow Plate Championship last weekend. The only title to have eluded them was the senior women's tournament which Mabouya Valley won over Soufriere.
With the likes of Andy Jn. Baptiste, Jean Joseph, Choix Melchior, Nick Janiel, Titus Moffat and Aquarius Lacombe — all goal scorers in the tournament — Central Vieux Fort will be hoping to continue their good run of form.
Likewise, a determined VSADC team will be looking to win this evening's championship for the second time, a feat no other veterans team has accomplished in the six-year history of the tournament.
CVF defeated Soufriere 8-7 in a penalty shootout after the scores were locked at 2-2 after regulation and extra time to advance to the final. The goal scorers were Andy Jn. Baptiste and Jean Joseph via the penalty spot, while VSADC won over Micoud 3-1 with goals from Barnett Bledman, Mathius Jules and Dean Jean.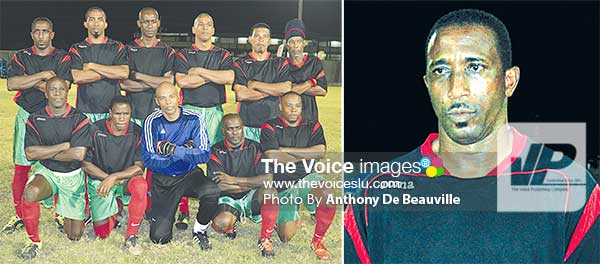 The two teams are slightly evenly matched on paper, but VSADC poses a greater threat with more former national players on their roster. CVF Head Coach Emmanuel Bellas will not have an easy time selecting his first eleven with former national striker and international player Titus "TT'' Elva, who has since scored three goals in the tournament, out on suspension after he was shown a red card in the semifinals against Soufriere.
Leading the charge for VSADC are Guy Jn. Baptiste, Barnett Bledman, Dean Jean and Mathius Jules who have been the main scorers in the tournament.
Meanwhile, from 6:00 p.m. former champions Soufriere Veterans led by Captain Jerome Serville will play Micoud Veterans for the third place silverware, $3,000 and bronze medals, while the losers get $2,000.