PARLIAMENTARY representative for Castries North, Stephenson King, on Tuesday evening called for calm following a double homicide at Tamarind Heights, La Clery that sent the community into shock waves.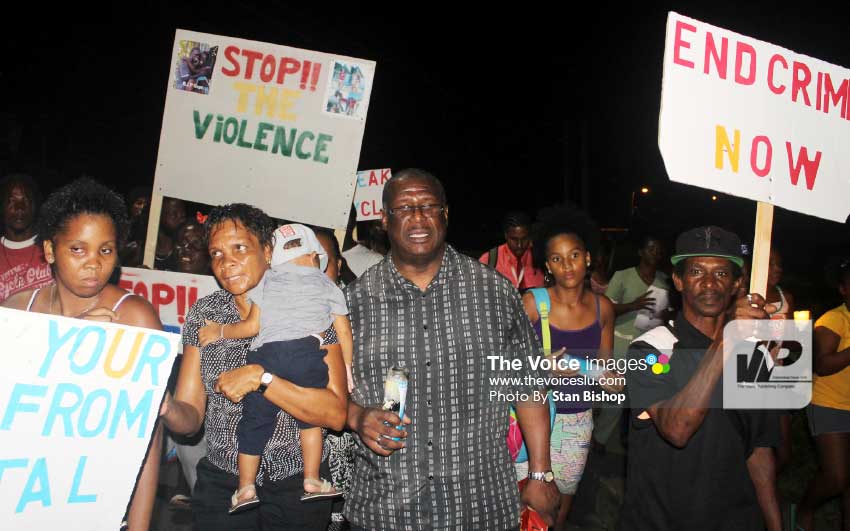 Speaking during a candlelight vigil and silent march held in La Clery, King said people should use the tragic moment to reflect on whether they were obeying the teachings of the Lord and truly believed in the spirit of forgiveness.
He told the nearly 300 men, women and children who showed up for the march to continue their efforts towards making Saint Lucia a safer place to live, adding that people needed to stand up against the evil taking root in communities.
"What has happened in La Clery — and what continues to happen throughout Saint Lucia – we as a people must stand up and say the time has come to stop it," King, who joined the march halfway, said. "We must go down on our knees and ask the Lord to give us strength, to give us hope and to give us compassion. To give us understanding for each other and to help us in our daily chores and operations in all that we do, that we continue to forgive one another: to embrace them and to live together in peace and in harmony."
King said La Clery had traditionally been a peaceful community of love, sharing and giving, but that, over time, that culture of love, peace, harmony had been disappearing. He urged those present to continue standing up against all forms of violence and be more forgiving.
The march began near the slain couple's home (which has since been demolished), through City Gate and La Clery before returning to Tamarind Heights. Walkers held candles and placards and sang hymns accompanied by a truck provided by King playing music. At certain points along the route, Father Cleophus Joseph led the group in prayers.
King said the demonstration was indicative of La Clery residents' intolerance of violence and hatred, especially when lives are lost in the process. He added that while one march cannot solve all of society's problems, an awakening was necessary.
"Tonight must not be a march only for tonight; it must be a march forever," King said. "We must continue this march every day that we walk the streets of this country, constantly praying to our Lord and constantly asking Him for forgiveness and asking Him to bring us together as one people."
He added: "We must bring this country back to where it was before. We must bring this country back to where it was a peaceful society, where we walked the streets without having the need to worry about anyone attacking us. Let us build up and fortify our society (as) one of peace, love and happiness."
King also extended condolences to the family of Sandrina Joseph, 29, and her boyfriend, Jeffery Arbella, 26, whose bodies were discovered with multiple chop wounds on the morning of February 1 at the home they shared with Joseph's two children. He said the community needed to provide some level of support for the children, adding that he remained committed to doing his part.
"I have pledged to continue to give my own support and I have indicated (that) going forward, as the parliamentary representative, my support will go to the family to make sure that they can overcome this trauma and to survive in peace and harmony in our society," King said.
"(These) are innocent children who, obviously, may not even understand what was happening," King said. "At 10 and 11, they will be faced with the challenges of being able to shape their lives and to live in society and, hopefully, to be successful."
Police have since arrested and charged 28-year-old Don Pierre-Louis of Chase Gardens, Castries for causing the couple's death.
One of the marches organizers, Saralee Nugent, told The VOICE that while she was pleased with the turnout, the hope is that the community never finds itself making the news for similar tragic reasons.
"I think the vigil went very well (and) the message definitely went out there that we really need a healing and cleansing of this nation. People came out in support from all walks of life to pray, to sing and just talk about what's going on in our community. So that was very important."
Nugent urged young people to find better ways of solving their problems, including through mediation sessions or peer counselling programmes within the school system.
At a makeshift shrine set up near the couple's former home, residents and relatives gave short speeches, many of whom referred to Joseph as a friendly person and Arbella as being very involved in the community, including in the sport of football.
Joseph and Arbella were buried yesterday.