100 Introduced To Pro Speed Cover.
HARRIS Paints recently unveiled their newest line of decorative paints designed to help St Lucian professionals work within tight maintenance or renovation budgets providing a cost effective alternative where there is considerable pressure on prices.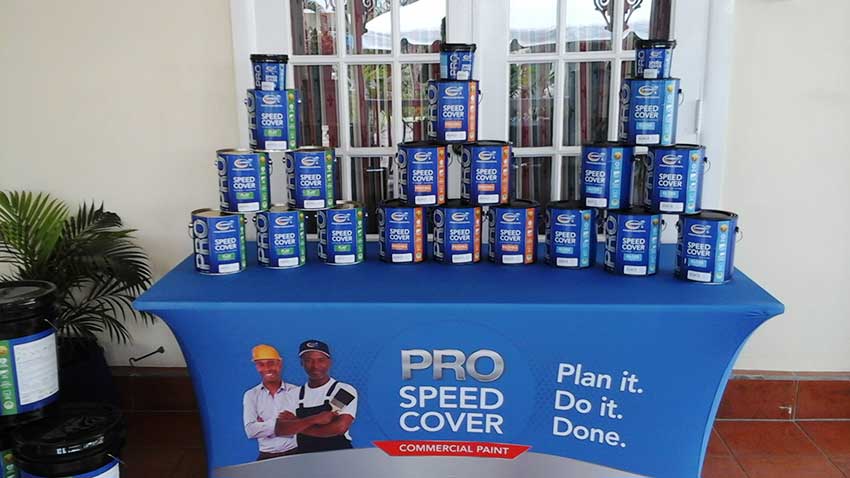 This innovative new line of Pro Speed Cover water-based, interior/ exterior products is the first commercial paint specially designed for the trade sector from a regional manufacturer.
The new Pro Speed Cover brand was unveiled at a "Breakfast of Champions" launch event held at Bay Gardens Hotel, Rodney Bay. It was attended by over 100 specially invited contractors, maintenance managers and key industry professionals who had a front row introduction to the performance properties of each of the new products as well as the extensive testing and comparison materials provided.
In introducing this new line, Harris Paints has recognized that the trade sector has very specific needs and requires flexible options depending on the nature of the project and the project priorities. Senior Vice President of Sales and Marketing, Orlando Vazquez explains: "Professionals will know that premium paint such as Harris UlttimaPlus, will provide the highest performance, best all-round results and lifetime value for their clients. Yet, owing to the need to be more competitive, some contractors have been calling for a lower cost alternative that can reduce their overheads substantially and help drive their business while delivering serviceable performance and that has been the major motivation behind the development of this new brand."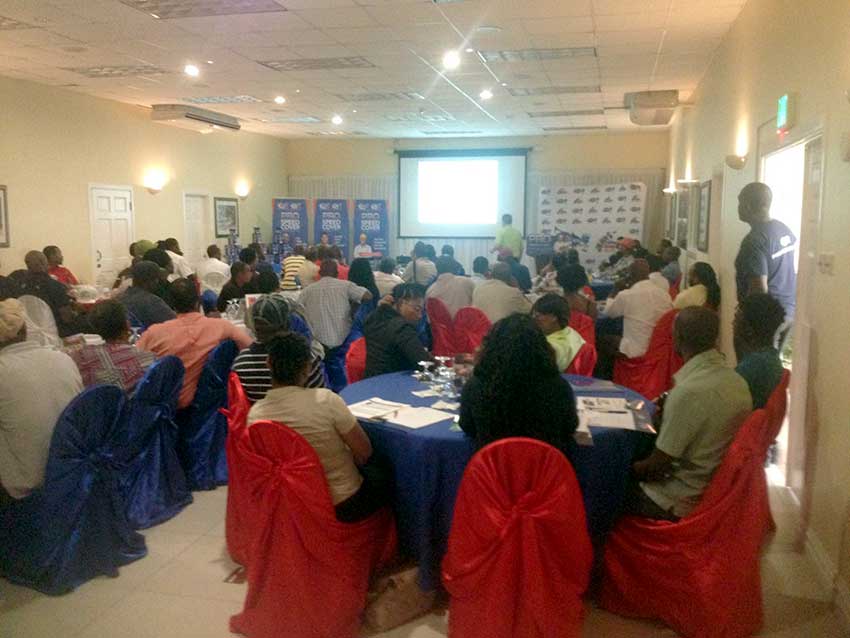 This exciting new range is available in 3 sheens, Flat, Eggshell and Gloss and each has been specially formulated to provide key benefits and cost savings to contractors. Christopher Joseph, Trade Manager for Harris Paints St Lucia pointed out: "While these products are being offered at a great price, they have some exceptional characteristics. The flat and Eggshell utilize FLOWTEK 555 Technology which is a specially balanced and optimized formulation that produces excellent spreadability and coverage without compromising hide".
In ideal conditions, Pro Speed Cover Flat spreads up to 40% or 200 sqft per gallon more than similar products. This can result in considerable savings for contractors even factoring in that coverage can be affected by a number of variables from the porosity of the substrate to the tools that are used. While products with a higher sheen normally don't spread quite as far, Pro Speed Cover Eggshell performed above average, spreading about 20% or 100 sqft per gallon further than comparative product in tests.
Also unveiled was the remarkable Pro Speed Cover Gloss with a high shine lustre usually associated with traditional oil paints. This innovative water-based Gloss contains FAST-FUSE Technology that allows the product to dry to recoat in as little as 1 hour, which can significantly increase the turnaround time of a job. It was also demonstrated to be an excellent choice for use on windows and doors as its quick-curing prevents freshly painted surfaces from sticking together in as little as 4 hours! Unlike oil-based products Pro Speed Cover Gloss won't yellow, has low odour and washes up easily in water.
The Pro Speed Cover range is expected to play a vital but selective role in St Lucia's commercial paint market particularly on projects that need frequent repainting or in secondary areas that do not demand the very highest quality finishes. Key sectors include maintenance of commercial properties; new construction; property sales and residential and office rental markets. Harris Paints are offering customers a Buy 5 Get 1 Free special offer on all products in this range until 30 April.