With close to a quarter of the labour force unable to find work, there are some bright gems who remind us that they are able to rise above such statistics and prove their worth in gold.
While for many able-bodied people the excuse is simply that jobs are not available, people with disabilities are proving that having a disability is not an excuse to becoming an entrepreneur.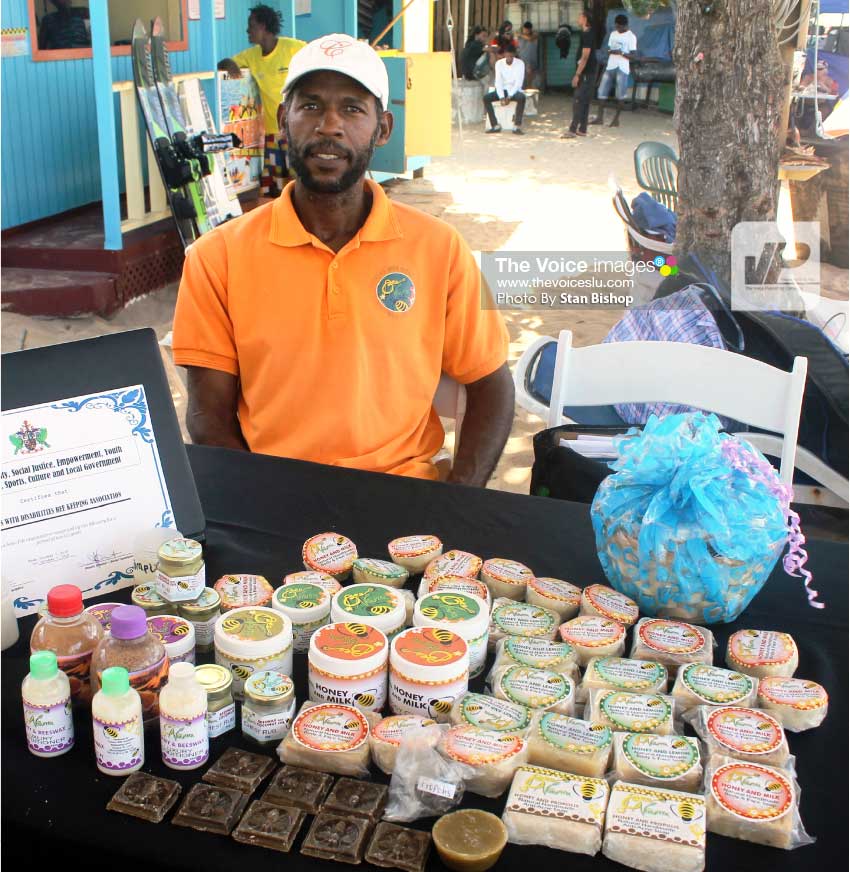 Mark Remy of Choiseul knows just what those struggles are. As president of the Farmers With Disabilities Beekeeping Association, he sees firsthand how people with disabilities demonstrate their passion to showcase their inherent abilities while making money from their efforts.
The association was formed in April 2012 following a beekeeping initiative spearheaded by the National Council of and for Persons with Disabilities (NCOPD) and funded by the Caribbean Development Bank (CDB) through the St. Lucia Social Development Fund (SSDF). However, it was also able to source funding from the Global Environment Facility (GEF). Membership has grown from 10 people to 30 and so, too, has morale.
"As a result of the training and exposure provided, some of our members have been empowered to undertake their own businesses," Remy explained. "However, most of our members depend on the association through which they can generate a steady line of income."
While Choiseul serves as the association's base, including its apiary at Balembouche, members are scattered throughout the island's south. The association sells byproducts of bees, including honey, beeswax, popolis (bee gum, which is an antiseptic) and incorporates them with local herbs and oils to produce body and hair products, chest rubs, handmade soaps, to name a few.
Remy said beekeeping is as equally an exciting activity as it is important to the members' livelihoods – "No bees, no food, because we depend on them to eat" – but that much work remains to be done as far as protecting that livelihood is concerned, including creating more awareness about the environment and protecting bees.
"The bees are dying and there's hardly any honey," he lamented. "It's a crisis period because of the effects of climate change. We had lots of rainfall from October to December which affected the flora."
He said that prior to last October, beekeepers were able to have two harvests of honey. Today, having one harvest seems almost impossible. In fact, one of his neighbours — said to be one of the largest honey producers in the south — is currently experiencing a shortage of the sweet stuff. Moreover, while the association's hives usually produce around 10 gallons of honey per harvest, beekeepers are finding it difficult to have even one harvest. Despite these challenges, Remy said members remain committed to persevering.
Despite not having a disability, Remy said he is caregiver to three relatives who are: his father, who is partially blind; and his mother and brother, who are mentally-challenged. As a director on the NCOPD's executive, he seeks to ensure that the business of people with disabilities gets the priority it deserves.
"Our association proves that people with disabilities can contribute meaningfully to society. While people might view people with disabilities as being unproductive, we prove them wrong. Even if we're physically-impaired, we can use our sense for survival," Remy said.
Over the past few years, the association has participated in various exhibitions to showcase its products, for which the public has shown some keen interest. Even the private sector has responded positively, including Bay Gardens Resorts, which featured the association among the five local businesses at its monthly marketplace showcase last month.
Marketing Officer at Bay Gardens Resorts, Nicol Alexander, said the resort started hosting the marketplace after being impressed by the variety of quality local products on display at last November's Saint Lucia-Taiwan Partnership Trade Exhibition held at Johnsons Centre in Rodney Bay. The association, she said, seemed a perfect fit.
"We wanted to give them the opportunity to get more exposure as well as give our guests the opportunity to know what's available so that they can take some of those items back home. This was the second such event we hosted and we intend to have more in the future," she said.
With such positive outcomes emanating from overcoming personal struggles, the Farmers With Disabilities Beekeeping Association is living proof that the human spirit can shine through the greatest challenges if only people believe they can excel. That's why Remy encourages all people with disabilities to rise above their personal challenges and prove that they can be a force to be reckoned with.
"They must not feel down; they must have self-esteem and value themselves as human beings who can contribute towards the development of themselves and society. There are opportunities for them to enhance their skills and knowledge. So they must be spirit-filled and get involved in activities that lift their spirits," Remy advised.
For placement of orders, contact Remy at 722 1915.