OPENING a new business in Saint Lucia has been growing pains for many years now. However, the small business sector which contribute to a large share of the island's gross domestic product (GDP), have either folded or continue to be unattractive for many people to even get started.
However, Prime Minister Allen Chastanet, said government aims to ease the squeeze many entrepreneurs find themselves in whenever they're considering opening startups. When The VOICE spoke to him recently with the plight many entrepreneurs face, he said some light is about to shine at the end of the tunnel for especially young entrepreneurs.
"Basically, the Saint Lucia Development Bank (SLDB) has gotten some young people on that board. The goal here is that the (SLDB) needs to channel its lending through separate entities. Take TEPA (Trade Export and Promotion Agency), for example, which takes an existing company and helps it get into the export market. If (that company) is going to borrow money from the development bank to do that, the bank knows that the person isn't doing so by themselves. So there's that support mechanism to help them grow," Chastanet explained.
Chastanet said government hopes to open a new entity called Village Tourism Incorporated to assist small guest houses, restaurants and gift shops in various communities across the island by giving them accounting systems, marketing and management support and training.
He said agencies such as TEPA and Village Tourism Incorporated can be used as "incubators", adding that government, too, hoped to invest more funding in small businesses should its financial situation improve.
"We would like to open up an agency for the creative industries that would help people in that industry develop and hone their skills and businesses," Chastanet said. "I've seen too many young people signing contracts with labels too early and, therefore, get the short end of the stick. So the idea here is to not only develop their skills as musicians and artists but also their business skills in terms of branding, contracts and so on."
The Israeli city of Tel Aviv-Yafo is that country's financial centre and technology hub with 405,000 residents and has the highest number of startups per capita in the world, averaging 28 per every square kilometre and 1 per every 290 residents.
In fact, the city has been ranked number two in the "World Top Startup Ecosystems" by StartupGenome. There are more than 1,500 hi-tech companies in Tel Aviv, of which 66% are startups.
There are more than 40 Accelerator programmes and co-worker spaces for startups in Tel Aviv, supported by the Mayor and Municipality of Tel Aviv-Yafo. The Municipality provides support to startups through tax breaks, subsidized workspaces and the Startup Visa project.
Mira Marcus, who runs one such accelerator programme in Tel Aviv-Yafo – The Library — told The VOICE that innovation is basically the DNA of the city's residents. Get Taxi, Wix, EatWith, Facebook face recognition technology and Meerkat are just some of the startups that call Tel Aviv-Yafo home. Marcus said startups have transformed the city in many ways, including nearby Rothschild Boulevard earning the nickname "Startup Boulevard".
"The notion of thinking of an idea and something that will change my life and of others around me is something that is very common in Tel Aviv, It's the way that our minds work" she said. "It runs through our DNA because it goes all the way back to the beginning of our city."
For a small fee, a prospective startup entrepreneur becomes a part of the programme which pairs them up with another entrant who might not necessarily have interest in a similar field. By pairing them up, Marcus said the aim is to have them discuss business ideas from different perspectives.
One crucial aspect of the programme, however, is that for every 100 startups in Tel Aviv, 97 failed within three years or less. However, the municipality, Marcus said, believes that the level of business and employment opportunities generated by the successful startups outweigh what others might view as losses.
One young participant in that programme told The VOICE he was able to set up two companies using the Accelerator, including one that showcases goods and services online for major retail chains. Buoyed by that success, he said he plans to widen his expertise and hopes to have his company listed on the major stock exchanges.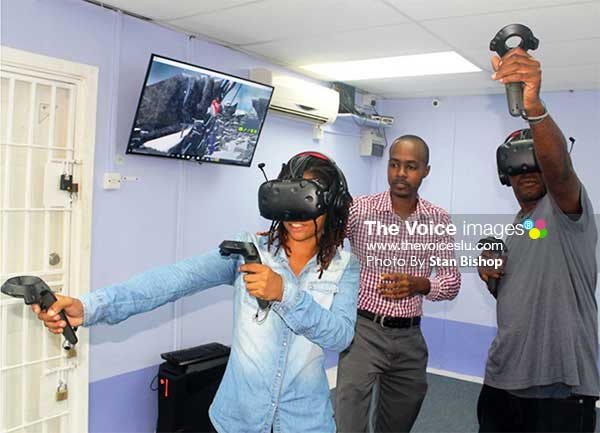 In Saint Lucia, however, small entrepreneurs still grapple with commercial banks turning down even their well-articulated business plans. Take the case of Jano James, who one month ago opened his VRcade where he offers patrons to experience virtual reality games. Having already established a successful IT services and solutions company four years ago, he was denied startup capital by local banks.
"It is a tough battle trying to get funding for a startup business, especially in the current dismal business climate," he told The VOICE. "It was even more difficult convincing bankers to lend money for a business venture that they knew virtually nothing about. So I've had my headaches and sleepless nights."
In the end, James was able to get funding via various banking institutions since he was told by each that the total amount he needed could not be granted. After one month of business, he remains hopeful that he made the right decision.
Another entrepreneur, Kendal John, said that since being rejected by a bank for upfront monies guaranteed by a grant agency for a film project he was working on, he has kept his distance from lending institutions. John said banks are not convinced that creatives are actually businesses.
"We also know that (getting) small personal loans are much more difficult for entrepreneurs than for a salaried person," John, the filmmaker behind the popular and riveting documentary, "Who Are You?", said.
Nevertheless, Chastanet said government's best plans to aid small business is contingent on attracting enough foreign direct investment (FDI), adding that government's fiscal challenges limits its spending and, therefore, what areas in which it can spend. It all comes down to whether the risks are justified, he said.
"Small businesses are like turtles laying eggs; hundreds of eggs are laid but only a handful of those eggs actually succeed in becoming adult turtles," Chastanet said. "But the fact is that you don't know which ones are going to be successful. Nevertheless, the tourism industry is a platform to help small businesses, especially in the export market because it brings that market to our shores."