WITH the scarcity of potable water increasingly becoming a major headache for consumers, the introduction of desalination plants in Saint Lucia might well be the solution to the island's water woes.
Last week, Prime Minister Allen Chastanet said government was working assiduously towards improving the island's water supply. To that end, he cited government taking a loan from the Caribbean Development Bank (CDB) to dredge the John Compton Dam which has lost its holding capacity due to heavy siltation caused by torrential rains and storms. Moreover, the construction of a water dam in the island's south, he said, has become necessary.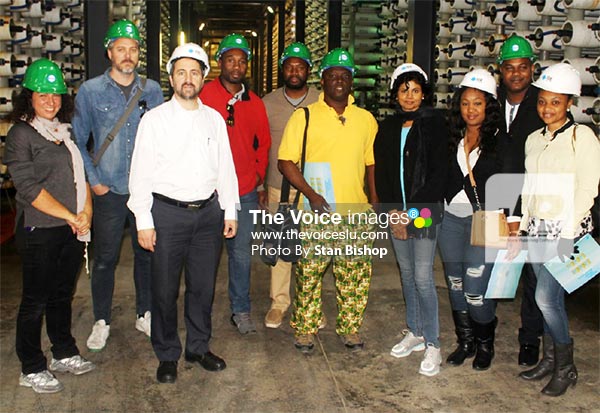 However, Chastanet argued that desalination plants are becoming increasingly popular, especially with the effects of climate change taking their toll on the island's water supply. Other factors, such as increased development and a leakage in the island's water supply network that accounts for nearly 50% of the treated water distributed not being billed for, have contributed to other contingency measures becoming essential.
"We're also looking at the possibility of having desalination plants. If we look at the uptake of development in the south that has been happening, I don't think we have the comfort of waiting 8-10 years to build the dam because the need for it is now," Chastanet said on Thursday.
The agricultural sector, especially in the south of the island, has also taken a major blow as it relates to water supply, with many farmers being unable to plant certain crops on a year-round basis. Chastanet said desalination plants, which have become popular in nations such as Barbados, Antigua and Barbuda, Turks & Caicos Islands, Bermuda, Australia and Israel, can fill that need.
"That's the kind of discussion we're having," Chastanet said. "In fact, we'll be following up with the CDB and send a team to look at (water desalination plants) as some of the alternatives.
As soon as that is completed, we'll make a decision as to how we're going to resolve the problem in the south."
In Israel, for example, where a water crisis is defined as consumers going without water for at least eight hours, the government has taken the bold step of encouraging the setting up of desalination plants. Today, Israel boasts five major desalination plants and the desert-based country's consumers hardly go without readily-available water.
One such facility is the Adom Desalination Plant in Ashkelon which uses reverse osmosis technology to convert up nearby sea water into drinkable water, a process that lasts under an hour. Billed as the world's largest and most advanced desalination plant, it has achieved one of the world's lowest-ever cost for desalinated water, producing around 396,000 cubic metres of water per day for 1 million consumers.
During a recent tour of the facility by Caribbean journalists, the Water Authority's spokesperson, Uri Schor, said 50% of all water currently being consumed in Israel was manufactured at desalination plants. He credited that nation's innovativeness for its desert conditions by using technology to water is readily available.
In fact, the revolution brought about by Israel's embrace of alternative sources of water has resulted in the country being less dependent on its natural water resources, thus allowing for a rehabilitation of those resources which would have been depleted over the years. With the growing dependency on freshwater resources, it is estimated that 45% of the global population will be living in countries that suffer from water shortage, he said.
"Droughts in Israel are becoming more frequent and last longer periods," Schor said. "Therefore, the situation in Israel is not only that the quantity of freshwater is not enough for the needs of the country. In fact, the quantity of freshwater decreases each year, while the population size increases. Therefore, the demand for water goes up."
With Israel and Saint Lucia announcing the strengthening of bilateral ties recently, both nations have been in discussions towards sharing technologies that would advance the setting up of desalination plants here.
Israel's Ambassador to Saint Lucia, Mordehai Amihai-Bivas, who visited the island last month, said the two countries were working towards exploring ways in which they can strengthen their diplomatic relations. Chastanet, who attended a reception at which the Ambassador was present, said at the time that revitalizing the island's water supply via desalination plants was among those areas of partnership development discussed.