MEXICO City hosted the Junior Achievement 2016 Company of the Year competition (COY) sponsored by FedEx..
The three days of intense competition, capacity building, networking, conferences, trade fair and grand awards dinner was held last week at the Fiesta Americana Hotel in the Mexican capital.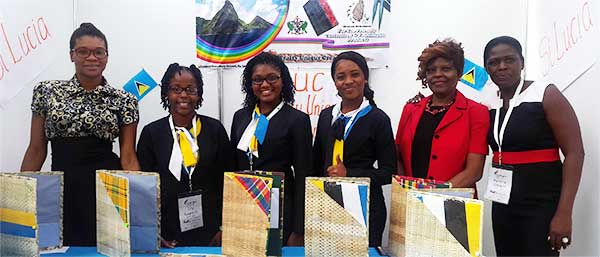 Representing St Lucia at the event was 2016 Company of the Year, Crafty Unique Creations of the Choiseul Secondary School. The President of the Company Ms. Nina Williams, V.P of Finance, Ms. Lily Baptiste and V.P of Production Ms. DjuanaLovence accompanied by teacher advisors/ chaperones Mrs. Cheryl Brown and Ms. Petal Joseph gave a good account of themselves at the event through the marketing and sales of their product, establishing relationships with sponsors of the event and JA executives and building a network of friends and business partners.
In her response to one of the questions at the Personal Interviews with COY's judges, Ms. Nina Williams said, "this competition has afforded us (team members) an opportunity to travel, experience a different culture and meet with an amazing group of students. Therefore I consider myself and my team members winners."
Parallel to the competition was the traditional Leadership Meeting for Executive Directors of JA Americas.
The management and staff of JA St Lucia, principal, teachers and students of the Choiseul Secondary School express their sincerest appreciation to the following: The Mexican Embassy, Minister of Commerce, Industry, Investment, Enterprise Development and Consumer Affairs and parliamentary representative of Choiseul, Hon. Bradly Felix, PS in the Ministry of Equity Social Justice, Empowerment Youth Development, Sports, Culture and Local Government, Mr. Donovan Williams, LUCELEC, principal and teachers of the CSS, Pastor Elvin Cox, Choiseul Craft Centre, parents, bus drivers, and everyone who contributed in one way or another.
The event which had the support of Delta Air Lines gathered approximately 20 youth companies of the JA Company Programme from the 32 countries that make up the JA Americas region to compete for the prestigious COY 2016.