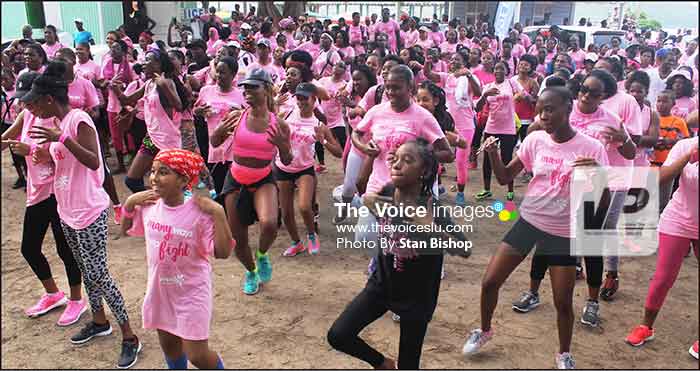 [Best_Wordpress_Gallery id="39″ gal_title="Yoplait Walk"]
HUNDREDS of people participated in the 9th annual Yoplait Walk for Cancer held last Sunday morning to show their solidarity with those battling cancer as well as to raise awareness about the dreaded disease.
The long trek that began from Massy Stores Mega at Choc ended at Pigeon Island and saw an overwhelming percentage of female walkers compared to males. Nevertheless, participants told The VOICE that despite that disparity, any support towards raising awareness for and finding a cure for cancer is indispensable.
Following the walk, a light breakfast preceded a warm-down Zumba session. Afterwards, some lucky participants received prizes as part of a raffle.
Since the inaugural Yoplait Walk for Cancer in 2008, over $280,000 has been raised and donated to various organizations that raise awareness and assist those battling cancer, including the National Community Foundation (NCF) and Faces of Cancer.
For the past three years, another dimension to the walk has been the much-anticipated "Men in Heels" contest organized by The Wave radio station held immediately after the culmination of the walk. In that competition, which is over an obstacle course men get the chance to win a wide array of prizes after paying a $10 registration fee. The catch, however, is they must compete in a pair of stilettos!
Two-time winner of the event, Julian Toussaint, was eliminated in one of the heats, leaving the competition open for a new champion. In fact, Toussaint's elimination came via the hot heels of RaideHippolyte, who eventually won the competition.
Describing the ordeal of running in four-inch heels as "painful", Hippolyte said he made the decision to participate in the event just a day prior. The Marisule resident said that aside from winning numerous prizes, including two JetBlue tickets and $1,000, he is more interested in supporting the awareness campaign for cancer.
"It's prevalent not just in Saint Lucia but all over the world. I thought that I might as well do something that can contribute to raising that awareness. In fact, while I was growing up, there was someone close to me who passed away from breast cancer. So it is something that I've always wanted to raise awareness about," Hippolyte told The VOICE.
Mervin Felix of Bexon placed second in the competition, beating Aaron Grospal, who finished third. He said his main reason for participating was to show support for those afflicted with the disease. The cause, he said, is also a personal one.
"While I've not had any member of my immediate family being diagnosed with cancer, I know relatives of my friends who have been," a tearful Felix told The VOICE. "In fact, just last week, a fellow sister from our church passed away due to cancer after a really long battle. So that really inspired me."
Masana Morrison, a "Men in Heels" organizer, told The VOICE that the event continues to grow with more corporate sponsors lending their support. She said that while the event often attracts a negative stigma from some, the aim is to create awareness about cancer in men.
"We're hoping that the event grows over the years and that more men can participate and support the cause," Morrison said.