SAINT LUCIANS are being urged to support local businesses in an effort to spur employment opportunities and the sustainability of the entrepreneurial spirit.
The call was reiterated at yesterday's opening ceremony of the 9th Annual Saint Lucia-Taiwan Partnership Trade Exhibition being held this weekend at the Johnsons Centre in Rodney Bay.
While issuing the call to consumers, Minister for Local Government and Culture, Fortuna Belrose, also urged businesses to place high importance on the exhibition's merits, including using it as a platform to test new products and services.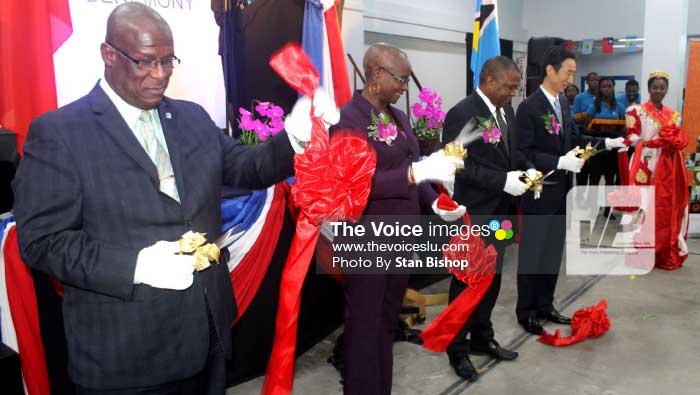 "This exhibition serves as a perfect business platform, not just for the importers and traders, but also for the new investors," Belrose said yesterday. "And so I say to exhibitors: make the most of this event, showcase your innovative and creative products and put your best foot forward."
Belrose said the exhibition is a crucial channel for improving bilateral investment between Saint Lucia and Taiwan, thereby deepening existing ties. With greater partnerships, she said, come greater rewards.
"Exploring trade with partners such as Taiwan can mean job creation," Belrose said. "So we must continue to explore how we can build on commercial cooperation between our two countries."
A record 65 Saint Lucian and seven Taiwanese companies are currently showcasing their wares at the exhibition which has over the years become the launching pad for especially small businesses. Products are varied: household items, arts and craft, jams and jellies, electronics and clothing, to name a few.
Meanwhile, Taiwan's Ambassador to Saint Lucia, Ray Mou, said Taiwan will continue to work with local officials to improve trade. He said a Saint Lucian trade delegation is expected to visit Taiwan soon for a reconnaissance tour of key areas of trade in that country. He said the hope is that the Saint Lucian embassy in Taiwan can also work towards creating mutual trade ties between the countries.
Ambassador Mou said the Taiwanese embassy also plans to assist Saint Lucia in other areas to stimulate employment, including rejuvenating the orchid farm at Union, sharing pharmaceutical expertise and promoting greater trade and investment opportunities between the two countries.
Scores of schoolchildren accompanied by their teachers toured the exhibition yesterday and got the chance to learn about the processes that were employed to create the products on display. One of the main objectives of exposing schoolchildren to the exhibition is that they would become empowered to start their own small businesses at school.
Organizers of the event are urging consumers to patronize the vendors, especially those looking for Christmas gifts and other items.
The exhibition opens daily from 9:00 a.m. until 7:00 p.m. and admission is free.