Taiwan, St. Lucia Team Up For Ninth Year.
CONSUMERS will have a wide variety of goods and services to choose from when the 9th annual Saint Lucia-Taiwan Partnership Trade Exhibition opens tomorrow at the Johnsons Centre in Rodney Bay.
Sixty-five Saint Lucian companies are expected to showcase their wares in the exhibition which runs through Sunday, a record for the event which began in 2008. Among them are companies specializing in arts and crafts, teas and spices, fashion and confectionary, jams and jellies, books and rums, and soaps and paints, to name a few.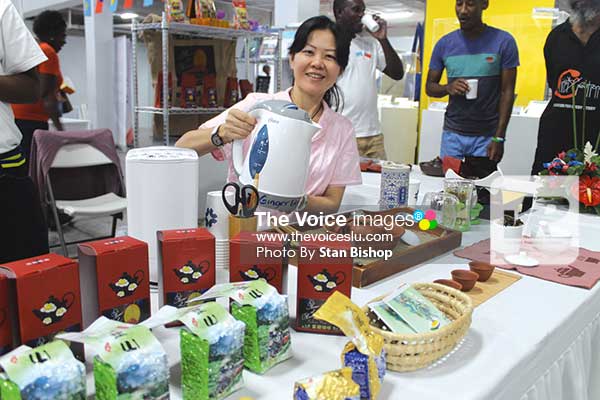 Seven Taiwanese companies will also be showcasing a variety of goods, including TAITRA, Taiwan's trade promotion agency; Overseas Engineering and Construction Company (an international consultant company), Speedtech Energy (specializing in solar-powered appliances), AGT Green Technology (specializing in environmentally-friendly houseware goods), ChernShing Top Company (specializing in lumbar support chairs and devices), F-ERA International Limited (cosmetics and beauty products) and Tsan Yu Yen Food (specializing in organic and sugar-free food products).
The business and networking event is organized by the Department of Commerce, International Trade, Investment, Enterprise Development and Consumer Affairs in partnership with the Embassy of the Republic of China (Taiwan).
While the annual trade show is hosted jointly by Saint Lucian and Taiwanese officials, the lion's share of the costs incurred to host the event is paid for by the Taiwanese in an effort to strengthen diplomatic ties and increase local trade.
Participants pay a $150 fee for their booths during the three-day trade exhibition and many of them welcome the fee, considering they would have to pay much more for the same service at other trade shows.
While the trade show seeks to foster deeper trade ties between Saint Lucian and Taiwanese businesses, the Taiwanese products showcased at the trade show are carefully selected so that they do not compete with similar Saint Lucian products.
According to Cindy Eugene, Marketing Specialist at the Department of Commerce, International Trade, Investment, Enterprise Development and Consumer Affairs, the key objective of having this partnership between the two countries is the networking aspect, part of which entails getting Saint Lucian companies to partner with Taiwanese companies in pursuing strategic business opportunities.
Other objectives include:
• Making the general public more aware of the goods and services that are available locally;
• Allowing local manufacturers and service providers an opportunity to showcase their products and services;
• Increasing consumption of local products;
• Increasing the opportunity for investment from Taiwan; and
• Providing a mechanism that will allow for Saint Lucian manufacturers and service providers to obtain feedback on their products or services.
Organizers are hoping that consumers will take advantage of the trade exhibition to purchase gift and other items for the festive season. Also, schools and other organizations are being urged to visit the exhibition to get both an understanding and appreciation of the wealth of creativity that exists in the business world, especially those exhibited by small businesses.
A number of giveaways via raffles will be done as a way of rewarding patrons for visiting and purchasing items at the exhibition.
The opening ceremony is slated for noon tomorrow but the exhibition runs daily from 9:00 a.m. to 7:00 p.m. Admission is free.