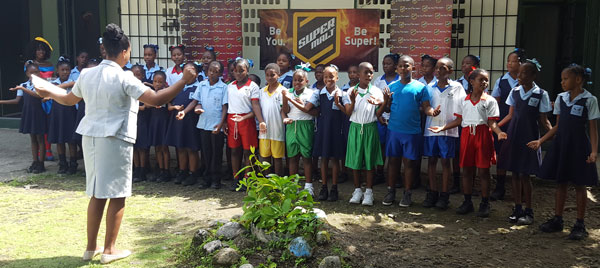 Cookies & Cream and Chocolate are the two new hit flavours joining the SuperMalt family. This week, the SuperMalt crew took to the road and surprised the students and teachers of the La Croix Maingot Combined School with the launch of the new flavours.
Launched in April 2016, SuperMalt is St. Lucia's first locally-produced flavoured malt. As preparations for the most festive time of year begin, the two additional flavours provide consumers with what they continue to expect from their favourite brands: more variety and quality.
"We wanted to launch these flavours keeping the people who are most influential in mind and of course spread a little cheer as we are so close to the holiday season. In the development of the new flavours, we remained consumer-focused in ensuring the new flavours were exactly what our customers wanted. We did this by conducting numerous tastings by taking the flavours to our customers and using their feedback to get it right! We're excited that they are out before the season and we encourage you all to try them," stated Sharlene Jn. Baptiste, Soft Drinks Brand Manager, Windward and Leeward Brewery Ltd.
As part of the launch, the SuperMalt team, including the Super Elf, surprised the La Croix Maingot Combined School during their regular assembly with SuperMalt for all teachers and students. Four lucky students also received early Christmas presents with the school choir receiving a cash donation to help further their efforts.
Jn. Baptiste added, "We will be surprising schools weekly from now until Christmas with our Super treats and message. SuperMalt is a brand which focuses on sending a positive message to young people by inspiring them to pursue their dreams and goals, whatever those may be. 'Be you…Be Super' encourages individuality and seeing beyond the traditional views of what success means. We recognize and appreciate that all our customers have unique characteristics and powers which make them super, just like our flavours: Original, Vanilla, Cookies and Cream and Chocolate!"
SuperMalt is available islandwide and encourages all to be super by visiting SuperMalt SLU on Facebook.