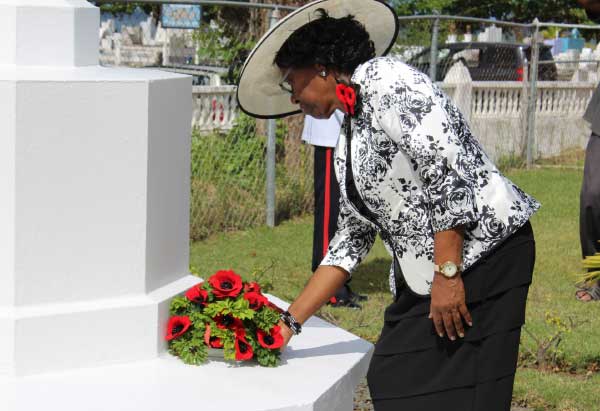 THE observance of Remembrance Day culminated last Sunday, with the Royal Commonwealth Ex-Service League Reunion.
The event which took place at the Prime Minister's Official Residence at Vigie was attended by Patron of the Royal Commonwealth Ex-Service League Governor General Dame PearletteLouisy. Acting Prime Minister and Minister for Agriculture, Fisheries, Physical Planning, Natural Resources and Co-operatives Ezechiel Joseph addressed the gathering on behalf of Prime Minister Allen M. Chastanet.
During the ceremony a minute's silence was observed in acknowledgment of the passing of Commonwealth Ex-Service league member Mr. Reginald Dudley of Piat's Gap, Castries. He passed away on November 12, at the age of 90.
While delivering brief remarks, Dame Pearlette commended the current members of the League for the high level of devotion and fortitude demonstrated every year despite the advancing age of members. Most of the members are octogenarians and some are over 90 years of age.
Acting Prime Minister Joseph called on the citizenry to use such occasions as opportunities for reflection on the price paid for freedoms that are now being taken for granted.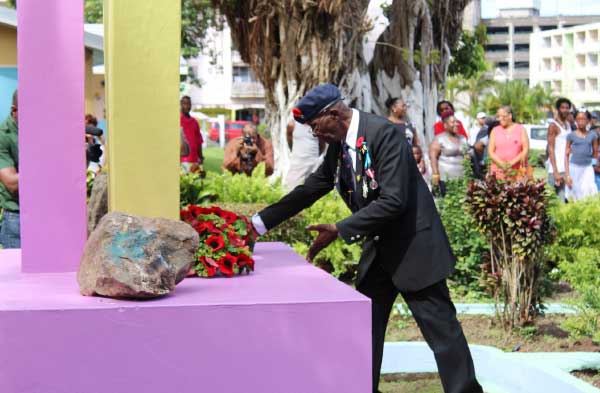 Joseph said: "In the current world we live in we certainly take our freedoms for granted. There are so many distractions; so many things that occupy our time. We go along living our lives not giving a second thought to why we are here, how we got here and the history that caused us to have the freedoms we enjoy today. We forget our past; we don't take time to read the books about our history and we lose sight of who we are as a people and what our place is in the world. Seeing you here and going through the ceremony today is a stark reminder of the battles that were fought and the sacrifices which were made in those very dark days"
Prior to the Reunion Ceremony, the Remembrance Day wreath-laying exercise was carried out at the Derek Walcott Square, the George V Park and at the Choc Cemetery. The Governor General, the acting Prime Minister Honourable Ezechiel Joseph, the leader of the Opposition Honourable Philip J. Pierre, the Commissioner of Police Mr. SeverinMonchery, members of Diplomatic Corps and the members of the Royal Commonwealth Ex- Service League were among those who participated in this year's wreath-laying exercise.
Meantime, President of the Royal Commonwealth Ex-Service League Mr. Haynes Cyril, SLMH (Saint Lucia Medal of Honour) said the League is now focused on continuity and passing on the baton to the next of kin of members so that the commemoration of the two international anniversaries will go on.