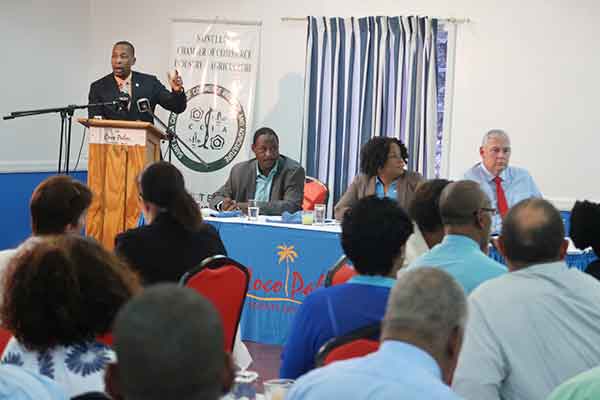 The Governor of the Eastern Caribbean Central Bank, Timothy Antoine, addressed members of the Chamber of Commerce on November 4. Antoine's address was entitled "A New Vision for a New Era: 2016-2020 and Beyond, Saint Lucia Scorecard."
The business community came out in large numbers for the luncheon presentation and Antoine expressed his excitement and pleasure at speaking to the St. Lucia business community for the first time.
In his presentation, Antoine spoke to his vision of the ECCU which includes having a strong EC dollar, a strong and resilient financial system and single-digit unemployment rate in the Economic Union. The presentation also discussed how St. Lucia stands in terms of the foregoing indicators and others in comparison to the rest of the ECCU.
Antoine reminded the audience of the ECCB's target Debt-to-GDP ratio of 60% and a target growth rate of 5% per annum, which currently very few ECCU members were achieving.
Antoine's presentation was well received as it was extremely informative and brought to light many important issues which he proffered that St. Lucia as the largest economy in the Union needed to take the lead on to ensure the success of the Eastern Caribbean Union. Among these were legislative reform, including in the areas of foreclosure legislation, deposit insurance and fiscal responsibility legislation among others.
Antoine concluded his address with an interactive question and answer session and his parting admonishment was, "St. Lucia must lead"