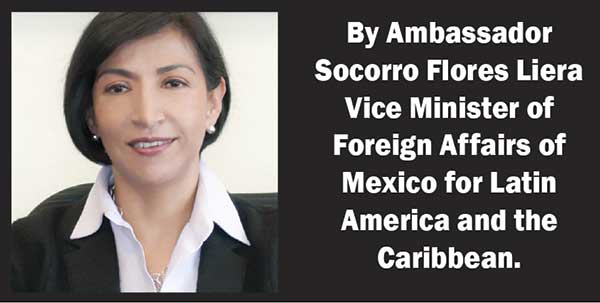 FOR Mexico, the Caribbean represents a strategic region and a natural zone for partnerships and synergies. In recent years, Saint Lucia has become the flagship of many of the cooperation initiatives that Mexico is developing or aims to develop in the Caribbean Region. Mexico has worked closely with Saint Lucia to prevent and recover from the effects of natural disasters that have hit the country.
A milestone in our relationship is marked by the signature of the first contract in the English speaking Caribbean countries to develop an infrastructure cooperation project in the framework of the Yucatan Agreement, which was signed in Saint Lucia, in March 2014. It permitted the construction of three buildings for the Saint Jude's Hospital complex and that I will have the honour to hand over to the Government of Saint Lucia during my visit. The second one was also a Saint Lucian project, in this case a water treatment plant. I am confident that my conversations with Prime Minister Allen Chastanet and members of his Cabinet of Ministers will allow us to push this important initiative even further.
Some technical and scientific cooperation projects that we have developed together, have been so successful that Mexico is working to replicate them in other Caribbean countries. As examples, we can mention the development of coconut plants resistant to plagues and the use of one of the greenhouses that Mexico donated back in 2013 as a hub to train farmers and other actors in the field of protected agriculture. This project is been replicated in Grenada and we had received requests from other Eastern Caribbean countries.
A cornerstone of our cooperation efforts has been our scholarship programme. This year, it included a full scholarship programme for postgraduate studies and a special programme of bachelor degree programmes at a very low cost. I am very pleased to announce that the Eastern Caribbean countries presented 9 candidacies for postgraduate studies, three from Saint Lucia. It is a considerable increase from last year's numbers.
Mexico also understands that, in order to strengthen our bilateral ties in all fields, it is necessary to eradicate the idea of a supposed language barrier. Therefore, as the country with the largest Spanish speaking population in the world, we have decided to undertake a major comprehensive strategy to make our language the second of the Anglophone Caribbean. In this the Mexican Embassy in Saint Lucia has led us and has brought to the table a cluster of top Mexican Universities and Saint Lucia's institutions in order to provide courses and programmes to increase the language skills of the Saint Lucian people. I want to recognize also the support of the Ministry of Education and the Embassies of Spain and Venezuela in Saint Lucia in this endeavour.
As you know, our Embassy here represents Mexico to the Organization of Eastern Caribbean States (OECS). I recognize and command the efforts and the important results that the Eastern Caribbean Countries have achieved in their integration process. You will find in Mexico a true ally on that route. Mexico proudly recognizes that the high level of the political dialogue that we have reached with our friends in Saint Lucia and the rest of the Caribbean, has materialized in a broader range of partnerships and concordances also at the multilateral level in fora such as CARICOM or the ACS.
Culture is perhaps the easiest way to get to know a country. We want Saint Lucia and the Eastern Caribbean to know us better. With that in mind, we had this year a National Day celebration with a gastronomy component and there were presentations of Mexican music and folklore. Also, next week we will present a sample of our contemporary filmmaking and our concert music in the framework of the second edition of LACFEST, the Latin American and Caribbean Film Festival.
Finally, let me refer to commerce and trade. From November 16 to 18 we will host in Cancun, the second edition of the Cancun Forum, a space for investors, distributors, and companies from Mexico and the Greater Caribbean to present each other business opportunities that will push the exchanges between us to the place our friendship deserves for them to be.
I want to say that we have demonstrated with facts that Mexico is a close and reliable partner of Saint Lucia and the Eastern Caribbean. Let's start the next page of our common book by working on bringing us closer using creative approaches and project designs. Mexico is here, Mexico wants many more years of a stronger and fruitful friendship.