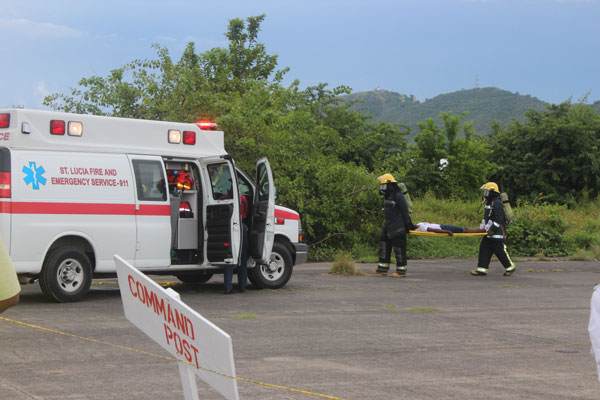 The Saint Lucia Air and Sea Ports Authority (SLASPA), as mandated by the International Civil Aviation Organization (ICAO), carried out a Full Scale Emergency Simulation Exercise at the Hewanorra International Airport this morning.
In collaboration with National Emergency Management Organization (NEMO) and facilitated by the Airports Division of SLASPA, the objective of the exercise was to assess the responsiveness and capabilities of airport agencies in dealing with a potential aviation incident/accident.
To fulfill this safety requirement by ICAO, it was necessary to suspend flight operations from 9:30 a.m. to 12:30.p.m. However, there were no disruptions to international flight operations which commenced at 12:30 p.m.
Speaking at the conclusion of the exercise, Lambert Remy, Head of the Airports Department, said, "In the scenario for the exercise today, a B738 aircraft with 150 passengers on an approach to land at Hewanorra International Airport (HIA) encountered severe weather and crashed just north of the runway.
"The exercise met its objectives in that we were able to assess the responsiveness and capabilities of the responding agencies. Where gaps were observed, corrective measures will be taken to bridge them. Indeed, our goal is to strive continuously to improve safety at our airports."