A CONFIDENT and determined Entrepot Secondary School netball team pulled out all stops to beat Sir Ira Simmons by 18-7 on Saturday afternoon to register their second victory on the fourth day of the Shamfest Festival at the Vigie Multi-Purpose Sports Complex.
Entrepot looked the better team on court as Goal Shoot Shania Johnny scored 13 goals from 24 attempts and Goal Attack Jessica Clarke netted 5 goals from 12 attempts. For Sir Ira Simmons Secondary School, Cayley Henry (GS) scored 6 goals from 13 attempts and Kimberly Phillipe (GA) netted 1 goal from 8 attempts.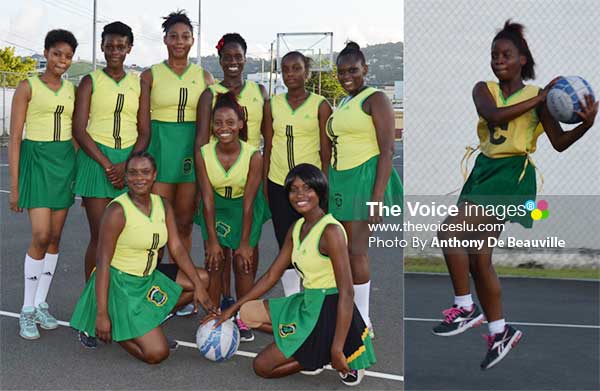 In Game 2, Corinth Secondary School defeated a spirited Gros Islet Secondary School 26-15. For Corinth, Joanie Remy (GS) scored 17 goals from 21 attempts and Dasha Eugene (GA) netted 9 goals from 17 attempts. For Gros Islet Secondary School, Shanika Dupre (GS) scored 15 goals from 27 attempts.
St. Joseph's Convent Egrets beat Bocage Secondary 25-11 in a lopsided affair to claim their second win on the trot. For SJC Egrets, Phoebe Andrew (GS) scored 4 goals from 8 attempts, Lien Moise (GA) netted 5 goals from 9 attempts, MelikaDestang (GA 2) scored 6 goals from 13 attempts and Melanie Antoine (GA 3) netted 10 goals from 23 attempts. For Bocage Secondary School, Zandra Lockhart (GS) scored 9 goals from 15 attempts and Jaya Bennette (GA) netted 2 goals from 3 attempts.
In the final game on the day, Shamrock rushed to their third consecutive win topping Sir Arthur Lewis Community College by 39-11 in a one-sided affair to remain at the top of the standings.
Britney Mc Donald (GS) converted 22 goals from 35 attempts to lead the Shamrock scoring. She was supported by Ariel Leonard (GS 2) who netted 10 goals from 16 attempts, Nicole Nestor (GA 1) who scored 4 goals from 6 attempts and JermiahEvariste (GA 2) who netted 3 goals from 8 attempts. For Sir Arthur Lewis Community College, Lashawn Hyatt (GS) scored 7 goals from 19 attempts and Allana Paul (GS) scored 4 goals from 9 attempts.
Matches continue tomorrow evening at the VMPSC.