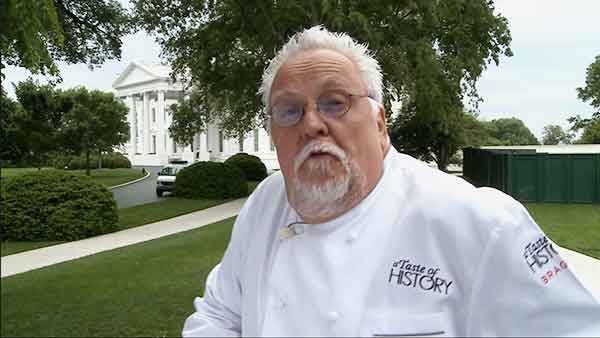 SANDALS Resorts International's Emmy Award winner Chef Walter Staib and Producer Paul Bauer are once more collaborating on the multi-award winning series 'A Taste of History'; the venue this time being the beautiful island of Saint Lucia.
Boasting three of Sandals luxury-included resorts, Saint Lucia provides the perfect backdrop for the TV series, which is sponsored by Sandals and based on the City Tavern Cookbook: Recipes from the Birthplace of American Cuisine. The book was authored by Chef Staib, who is also Sandals' Culinary Ambassador, along with Paul Bauer, Sandals Resorts' Group Manager – Food and Beverage Standards, and himself a recent Emmy Award winner.
"A Taste of History" features Chef Staib travelling the globe to historical locations, into famous kitchens and exotic markets, telling the unique story of American culinary heritage and its many influences, by recreating dishes inspired by the founding fathers. The cooking TV series explores, educates, and brings America's culinary heritage to life through the recreation of elegant and sumptuous dishes inspired by the founding fathers.
The show has filmed in several other Caribbean islands including Jamaica, Grenada, The Bahamas and the Turks and Caicos Islands, showcasing the local cuisine of each island and tracing the historical influences, with the Grenada episode copping the Emmy Award for Bauer.
In this episode of "A Taste of History", now in its eigth season, the team chose the MorneCoubaril Estate, a region steeped in history in the town of Soufriere. The episode is dedicated to highlighting the French influence in the island during Napoleonic times when Josephine and Napoleon were a dynamic duo shaping world history.
Viewers will be treated to Chef Staib exploring exotic and significant recipes of historic proportions: venison, pheasant, ostrich, and eel; fry fish, celery, calves' feet, and oysters; sauté wild mushrooms and kohlrabi, braise beets and sunchokes …and going back to the classics, with stuffed cabbage, mashed potatoes, turkey stew with egg noodles and beef brisket. Bake bread, tarts and Martha Washington's Chocolate Mousse cake, follow along as the adventures in history continue.
Chef Staib owns and operates a restaurant in Philadelphia, which was built in 1773. Of food, he says, "food is history. As people migrate they bring a little from home, so the French who settled here brought certain foods and incorporated them into their diet." He adds, "we try to give the viewers a good feel for what has happened 100 years ago. The show will give insight into how life would have been. It transports one back in time."
A Taste of History airs throughout the United States on PBS and RLTV.