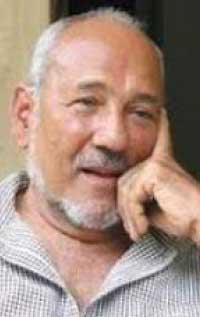 SIR James Mitchell, former Prime Minister of St. Vincent and the Grenadines is the featured personality in the third part of the television documentary series, THE OECS: THE FOUNDERS which continues on the National Television Network, (NTN) on Monday
The series was commissioned in observance of the 25th anniversary of the OECS on June 18 this year and is produced and presented by Earl Stephen Huntley of the West Indies Media Corporation (WIMEDIA)
It features interviews with five of the Prime Ministers and Secretariat officials who were either on the Authority of OECS or at the helm of its Secretariat during the founding years, with each programme devoted to one of the Founders.
In the third programme, Sir James, who was the prime mover behind an initiative in 1986, for a political union of the member states of the OECS, gives his views on why the move failed. Known for his frankness, Sir James is very explicit in his condemnation of some of the political leaders in Government and opposition for the failure.
Sir James served on the Authority of the OECS from 1984 to 2000. An Agronomist by profession, from the Grenadine island of Bequia, Sir James first entered politics in 1966 when he won a Parliamentary seat for the St. Vincent and the Grenadines Labour Party. In 1975 he formed the New Democratic Party and was the leader of the opposition from then until his NDP won the 1984 general elections. As Prime Minister, he went on to win three more successive general elections until his retirement in 2000.
The programmes air on NTN at 9:00 p.m. on Mondays with rebroadcasts on Tuesdays (9:00 a.m. and 3:00 p.m.), Saturdays (8:00 p.m.) and Sundays (12:00 noon).