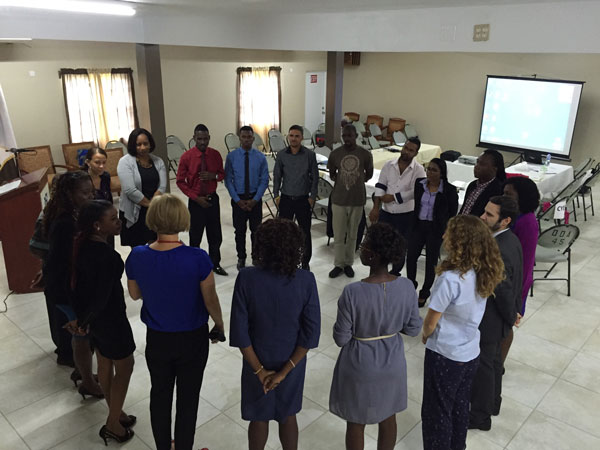 The 12th Caribbean Youth Environmental Network (CYEN) Biennial Congress and Caribbean Youth Environmental Summit kicked off on Monday, October 31 at the Department of Agriculture Conference Room in Basseterre, St. Kitts.
The aim of the week-long Summit is to raise the level of awareness about sustainable lifestyle and Principle 10, a regional agreement to improve environmental standards in Latin America and the Caribbean.
St. Kitts and Nevis is the newest signatory to the Principle 10 Declaration.
In her address at the opening ceremony, Tsvetelina Filipova, Senior Expert at the Regional Environmental Center (REC) based in Hungary said, "REC joined forces with CYEN to organize several sessions on Principle 10 for this summit. We will be undertaking a youth training, a public officers training and a town hall meeting, all in an effort to make people more aware of Principle 10 and their role in effectively implementing this process in the Caribbean."
According to David Barrio, Environmental Affairs Officer at UN ECLAC, "The 2030 Sustainable Development Goals offer a chance of prosperity to the people of this planet and more importantly it's closely linked to Principle 10 which seeks to promote access to information, public participation and access to justice in environmental issues. Sustainable development will only be possible if it has people and participation at its core."
Also addressing the gathering was Garrette Clark from the UN Environment, who will lead the week's session on sustainable lifestyle in support of the global 2030 Development Agenda. Meanwhile, Jamilla Sealy, Regional Chair of CYEN, encouraged fellow members to play a more active role in accomplishing their goals. She said it's important for members to become acquainted with their constituency and ensure more youth are aware of CYEN and their work. She also urged members to become familiar with their government representatives.
The feature address was delivered by June Hughes, Senior Environmental Officer in the Ministry of Agriculture. She congratulated CYEN for its active role in the recent achievement of the Paris Climate Change Agreement. Special mention was made of the CYEN-Saint Lucia Chapter's '1.5 to stay alive' campaign. She also noted that St. Kitts was one of the first 15 countries to ratify the Climate Change Agreement.
Close to 50 people from across the region were in attendance at the opening ceremony. The Summit is sponsored by the Government of St. Kitts and Nevis, the Ministry of Environment, Land and Sea of Italy, REC, UN ECLAC, UN Environment and The Ripple Institute.