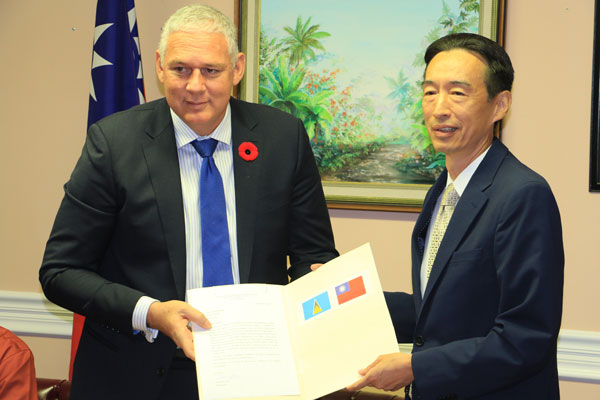 Prime Minister Allen Chastanet has expressed gratitude to the government and people of the Republic of China (Taiwan) for their continued generosity and invaluable support in funding several projects that are fundamental to Saint Lucia's development.
Ambassador of the Republic of China (Taiwan) to Saint Lucia, Ray Mou, presented three cheques to the government through the Prime Minister and Accountant General on Monday, October 31.
The Ambassador expressed his government's enthusiasm to be a part of Saint Lucia's developmental accomplishments. He singled out the Electronic Documents and Records Management System Project as one that is nearing its final phase: "The aim of this system is to serve government's primary channel for digital information exchange, the management and sharing of documents and data records within government agencies. We are happy to know that the project will be completed successfully next year."
The projects include the Forestiere Human Resource Centre (US$300,000 or EC$806,460), Sarrot Multi-Purpose Court (US$150,000 or EC$403,230), and the Electronic Document and Records Management System (EDRMS) (US$13,887 or EC$37,331.03).
Also present at the handover was Minister for Economic Development, Housing, Urban Renewal, Transport and Civil Aviation, Guy Joseph, who noted that the projects earmarked for the constituency of Castries South-East will touch many lives.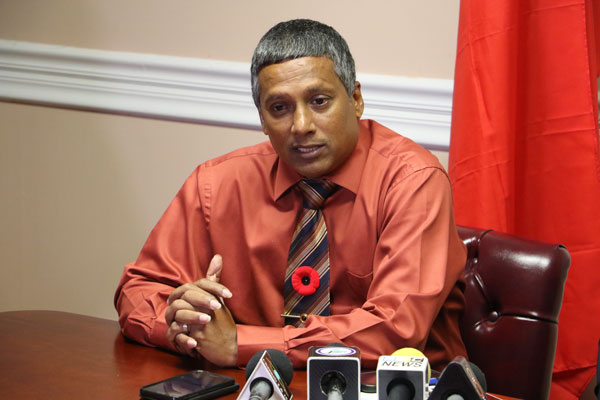 "Among the projects is a multi-purpose court in the community of Sarrot. This is a project that we had done preliminary works on about five years ago, just touching on the foundation preparation. But this project was not continued by the previous government. I must express special thanks and appreciation to the Embassy of Taiwan for coming in so quickly to assist in this project. It is a project that is very much needed for the young people. Sarrot is a community that is deprived of any public facilities. This cheque being granted for the execution of this initiative is one that is going to meet the needs of many young people in the community."
Joseph was also elated to receive support for a second major project, this time in another community within his constituency: "Also, there is consideration for a special building in Forestiere that is to meet the needs of the community. The only public building in the community is the school and any event which has to take place in the community would mean that the venue would have to be the school or the churches within the community. We want to address that through this project. So once again, we are thanking the Taiwanese for their assistance."
Joseph asserted that once the project funds were allocated the communities would begin to see the commencement of works on the two initiatives. The sum of US$1 million was also contributed towards the Constituency Development Programme (CDP) for local construction projects.