THE southern zone completed their preliminary round of matches in the Saint Lucia Football Association / Vision Super League Inter District Under -21 tournament when the final two games were played at the Phillip Marcellin Grounds on Tuesday evening.
It was a double whammy as both Vieux Fort North and South teams won their encounters. With their victories, the two southern teams now advance to the next round of competition.
In Game 1, Vieux – Fort North defeated Choiseul 2-0. For VFN, the goal scorers were Dalyan Johnson and Julian Celise.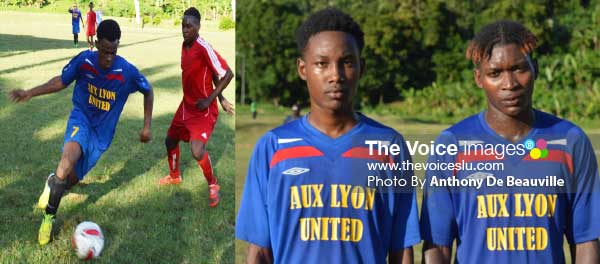 In Game 2, Vieux -Fort South defeated Laborie 4 -0. The goal scorers were Ricardo Miller, who recorded a hat-trick and Jevic Mc Farlane from a penalty spot.
In the Gros Islet Football League/Saint Lucia Sports Online tournament, matches played on Tuesday ended with Sandals defeating GMC Glace 2-1 in Game 1 and GMC United defeating Windjammer 2-1 in Game 2 with goals from TevLawerence and Tonius Simon in the latter match.
The tournament continued last evening at the Gros Islet playing field when Reduit FC took on Monchy FC.
On Sunday at the La Ressource playing field, defending champions Aux Lyons United retained the EC Global/Mabouya Valley Under-21 football title in front of an appreciative crowd. The defending champions secured bragging rights with a humiliating 5-1 scoreline at the end of regulation time.
The goal scorers for Aux Lyons United were Nicolas Alphone, Leus Alphonse, Kain Marcel, Mentus Donavan and Sherwin Simon.
Meanwhile, VSADC are the new Saint Lucia Football Association President's Cup Champions. The Castries team defeated TiRocher (Micoud) team 1-0 in the final played on Saturday at the Soufriere Mini Stadium. The lone goal was scored by Shaquille Joseph.
For making it to the final of the competition, both teams have gained promotion to the 1st Division of the 2017 SLFA competition.