This is another in a series of articles intended to expose our readers to pertinent information regarding their fitness efforts. It is produced mainly on the basis of research done by Rodriguez "Rodja" Constantine, owner of REPTS (Registered Exercise Professionals & Therapists) and co-producer and host of FIT4LIFE. Rodja has over 20 years experience in the field.
POST-EXERCISE HORMONE RELEASE CAN PREDICT BIOLOGICAL AGE
Scientists from Aston University have discovered a potential molecular link between Irisin, a recently identified hormone released from muscle after bouts of exercise, and the ageing process. Irisin, which is naturally present in humans, is capable of reprograming the body's fat cells to burn energy instead of storing it. This increases the metabolic rate and is thought to have potential anti-obesity effects which in turn could help with conditions such as type-2 diabetes.
The research team led by Dr. James Brown have proven a significant link exists between Irisin levels in the blood and a biological marker of ageing called telomere length. Telomeres are small regions found at the end of chromosomes that shorten as cells within the body replicate. Short telomere length has been linked to many age-related diseases including cancer, heart disease and Alzheimer's disease.
Using a population of healthy, non-obese individuals, the team has shown those individuals who had higher levels of Irisin were found to have longer telomeres. The finding provides a potential molecular link between keeping active and healthy ageing with those having higher Irisin levels more 'biological young' than those with lower levels of the hormone.
Dr James Brown from Aston's Research Centre for Healthy Ageing, said: "Exercise is known to have wide ranging benefits, from cardiovascular protection to weight loss. Recent research has suggested that exercise can protect people from both physical and mental decline with aging. Our latest findings now provide a potential molecular link between keeping active and a healthy aging process."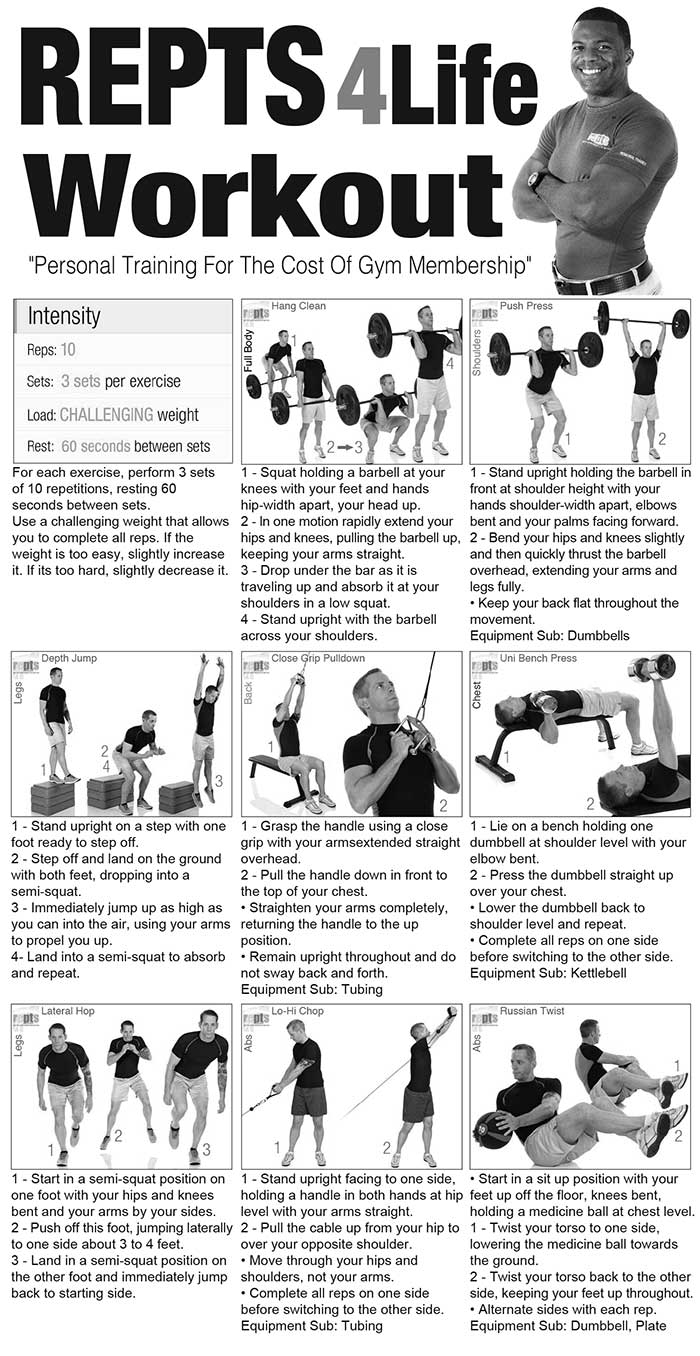 Sources:
Aston University
Springer Link
In the mean time here's a fitness program to help you shed unwanted pounds, trim excess body fat, and sculpt a lean body. Personalized programs are also available for a nominal fee
Rodriguez"Rodja" Constantine is a Certified Personal Trainer, Fitness Consultant and owner of REPTS ( Registered Exercise Professionals & Therapists), a Personal Training Studio located in the Richard Fredirick Building in Castrires and in Rodney Bay opposite RJ Clarke. Rodja has over 20 years fitness experience and through REPTS offers upgradeable fitness packages (Personal and small Group Training, Body Analysis, Nutrition Counselling and Planning, NutriCare, FREE Cardio only Gym Membership, Physi-Fitness, and etc.) for one affordable monthly fee. Rodja also designs long term fitness plans and short term workout routines for use at home, your current gym, or when travelling. We invite you to visit REPTS for a free consultation and a tailored program that will best help you achieve your fitness goal. You may call at anytime at 758-722-3763 during business hours (4:30a.m. – 10:00p.m.)to schedule an FREE consultation and trial session. . Subscribe to our website at reptsfitness.com or follow repts on facebook at facebook.com/repts.fitness. Call for details.