Wants Swift Adaptation Process on Climate Change.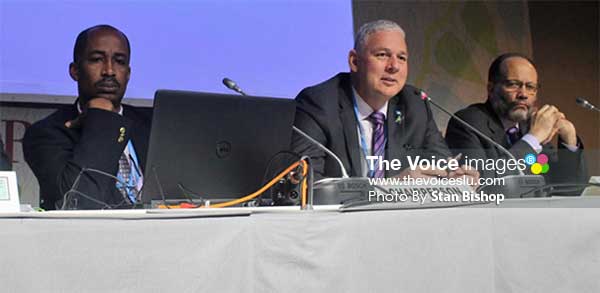 CARICOM States are growing impatient with the slow pace at which the adaptation phase of the Paris Agreement signed last December's COP21 and currently ratified by 109 countries is progressing.
That was the prevailing theme when the CARICOM delegation to this year's Conference of Parties (COP22) being held in Marrakech, Morocco discussed climate-related issues for nearly 90 minutes at a CARICOM Ministerial Meeting on Monday.
Among those present were CARICOM Secretary General, Irwin LaRocque, former Minister for Sustainable Development, Energy, Science and Technology (Saint Lucia), Dr. James Fletcher, Chief Sustainable Development and Environment Officer (Saint Lucia), Crispin d'Auvergne, Minister for Education, Innovation, Gender Relations and Sustainable Development (Saint Lucia), Dr. Gale Rigobert, and Saint Lucia's Prime Minister Allen Chastanet.
Belize's Deputy Permanent Representative to the United Nations, Ambassador Janine Felson, said the political issues are largely related to the question of the adaptation fund and the collective goal of US$100 billion (per annum by 2020).
She said there is a very strong push by the developing countries to have adaptation finance singled out with the potential of having a target identified within the context of what is called a long-term finance programme.
"The developed countries are willing to say that the adaptation finance should be scaled up but they do not want to make any progressive step in trying to strike a balance between adaptation and mitigation," Ambassador Felson said Monday. "We're aiming to address this issue through the long-term finance discussion and, hopefully, we will not have to elevate that discussion. I think it is very important in the context of the dialogues that we really drive home the significance of adaptation finance for our countries which are considered the most vulnerable."
She added that given the urgency of action and increasing ambition, the projected US$100 billion (per annum) is just too low.
"We're talking about something in the region of US$5 trillion to US$7 trillion for implementation of the 2030 Sustainable Development Agenda, which includes climate change," she noted.
Meanwhile, Dr. Fletcher said the recent elections in the United States has resulted in a "big cloud looming over this COP" that has left many people questioning the U.S.'s position after Donald Trump is sworn in as president next January.
"The United States is a very big player within the UNFCCC (United Nations Framework Convention on Climate Change)," Dr. Fletcher said. "Given the statements that have been made by President-elect Trump, many people are wondering what will happen. We've had a meeting with the U.S. delegation (here at COP22) and they are as uncertain as we are about what the future holds for the U.S.'s involvement in climate change."
In a November 6, 2012 tweet, Donald Trump said, "The concept of global warming was created by and for the Chinese in order to make US manufacturing non-competitive." In dismissing climate change as "hogwash", Trump told ScienceDebate that the money needs to be spent on providing clean water, eliminating diseases like malaria, increasing food production, or developing alternative energy sources.
As per the rules of Paris Agreement, countries wanting to opt out of the agreement face a four-year process, including waiting out a three-year mandatory period before they can sign off followed by another year during which the U.S. can withdraw its membership from the United Nations Framework Convention on Climate Change, essentially withdrawing from the Paris Agreement, by which time Trump would have left office. However, another option is open to Trump.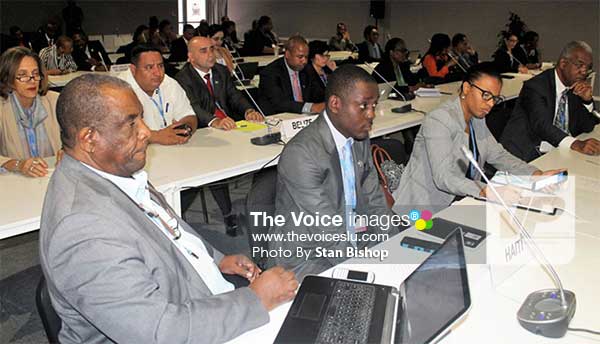 "He can also do what many people think he will: nothing," Dr. Fletcher opined. "This means the U.S. would withdraw its participation without doing so officially as well as withdraw funding, which could be very damaging to the process because the U.S. contributes to the budgets of the UNFCCC, Inter-Governmental Panel on Climate Change, and the Green Climate Fund. So that would probably be more damaging than anything else and there's a prevailing thought that that is what might happen."
However, Prime Minister Chastanet said it would be wrong for stakeholders to react to the current U.S. situation without some level of optimism "because we are reacting to something we don't really know" the outcome of.
"We can all jump at the assumption that the U.S. is going to change its policies (on climate change). But until the new president is sworn in, we're not going to know what the decision is going to be. What I would hate for us to do is to overreact and play our hand too early as it pertains to that," Chastanet, who chaired Monday's meeting, emphasized.
Chastanet believes that CARICOM — like other stakeholders — should proceed with their agendas as planned and "react once we know definitively what (the U.S.'s) new position is going to be." The region must also impress upon the soon-to-be American president what they stand to lose, Chastanet said.
"(We should not) just react to what (Donald Trump) said while he was a candidate. Now that he's been elected, we've already seen him back-tracking on a lot of issues. I think that until he's sitting in a Cabinet and is being advised, we should not overreact. There's a lot of practical implications to any decision that he or the country wants to make," Chastanet said.
Chastanet added: "As Prime Minister of Saint Lucia, my concern is that we leave here with something. I don't know about the rest of you but I do know that my (country's) financial situation is dire. Every year that goes by, there's another hurricane season and we find ourselves deeper in debt. Clearly, there's a need for infrastructural development."
Chastanet said CARICOM, like other Small Island Developing States (SIDS), needs to continue negotiating and lobbying heavily for the reclassification of middle income countries by focusing on the critical factor of vulnerability to natural disasters and climate change. The current method of classification, he argued, disadvantages developing countries because the metric being used is gross domestic product (GDP) per capita.
"We've waited long enough," Chastanet told the delegates. "We have to be able to get on with the adaptation part of the problem. Let's face it: the mitigation part is just politics and for our part is not going to solve the global warming problem…In terms of changing our lives, adaptation is the one thing that can do that."
But all is not lost in Marrakech where hundreds of formal and informal meetings are being held daily to iron out teething issues related to last year's historic agreement to keep the increase in global warming temperature to well below 2 degrees Celsius above pre-industrial levels while pursuing efforts to limit the temperature increase to 1.5 degrees Celsius. However, Chastanet said CARICOM, like other Small Island Developing States (SIDS) are growing tired from playing the waiting game.
"I think we should be asking for something that can happen now," Chastanet said. "If we don't do that, then we're undermining our own argument that there's an urgency (on our part). Hurricane Matthew was a clear reminder that we're waiting too long. So I think that we're almost falling into the same game they have by following their agenda. It's their agenda, their meetings and their time-lines."