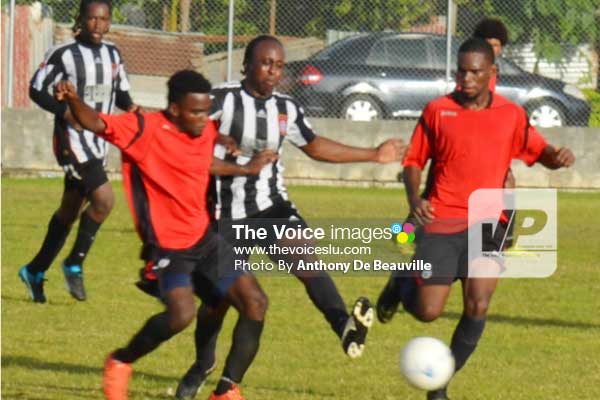 IN the Saint Lucia Football Association President's Cup played at the Sab Sporting Facility last Saturday, City champions VSADC made light work of OBLA Fashion winning 5-0 in a lopsided affair.
Javier Charlaoius opened the scoring in the 20th minute and added another goal in the 41st minute to seal the halftime advantage for his team.
On the resumption, it was all VSADC as they went on to score three more goals from the boots of Zachary Le Rich in the 48th minute, Mickey Lionel in the 54th minute and Garvey Auguste in the 70th minute.
In Sunday's SLFA 1st Division Club Championship double-header played at the Gros Islet playing field, there were wins for RV Rovers and Northern United.
In the first encounter, RV Juniors defeated a formidable Big Players team from Marchand 2-1. The Marchand team included of Lincoln Phillip, Valdez Maximin, Alton Roberts, Shem Donnelly, Nye Henry and Dwight Polius, all of whom recently played the Blackheart final against Vieux Fort South.
Kensal Thomas put RV Juniors ahead in the 43rd minute to the surprise of the small crowd in attendance and that was the score-line at halftime.
On the resumption, RV Juniors went further ahead when Lynch Gilbert scored a beauty in the 53rd minute that eluded the Big Players custodian Alton Roberts. With time running out on the clock, Big Players upped the tempo a few notches, resulting in a goal from Jarvis Joseph in the 92nd minute.
In the second encounter, Northern United — playing without a few of their key players — defeated Ciceron 3-1 in a keenly contested matchup.
Northern United's MannoahFessal opened the scoring in the 24th minute after squandering a penalty in the 16th minute. Despite Northern United's relentless attack on goal, the Ciceron players never allowed their shoulders to drop as they, too, had several counter-attacks and managed to equalize with a free kick in the 45th minute. Halftime score was 1-1.
On the resumption, it was all to play for and Nicholas Lawrence's 58th minute goal made it 2-1 before Amaris Lorde secured all three points for Northern United by scoring in the 71st minute to make it 3-1.