Mayor Calls for residents Cooperation
By: Kingsley Emmanuel
THE newly appointed mayor of Vieux-Fort has called on residents to cooperate with the Vieux-Fort South Constituency Council to make it the best and the envy of the rest of the country.
Mayor Orricia Denbow-Bullen made the call at the swearing-in ceremony of nine councillors, which was held on Wednesday at the National Skills Development Centre (NSDC) in Vieux-Fort.
The other eight councillors sworn in were: Jean Claude Amedee, Nicola Geffa Bellas, Douglas Mahy, Francis Edmund, Roger Winter, Cuthbert James, Sabina Valmont and Francine Marius.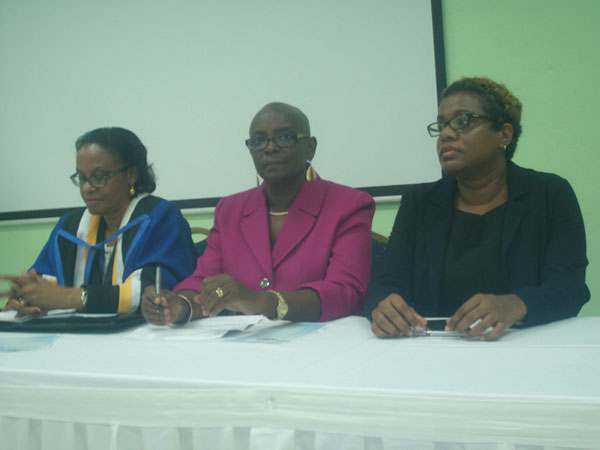 The ceremony was attended by government officials, members of the business community of Vieux-Fort and other prominent individuals of the community.
"Provide us (councillors) with the encouragement and assistance we must have to succeed," Denbow-Bullen said. "No matter how great our plans or projects are, we would achieve nothing if you do not take a special interest in what is happening around you."
She said that she would not promise anyone that the problems the town was experiencing will be resolved easily and quickly, but gave the assurance that she would do everything within her power to tackle the problems in a robust and committed manner.
"Vieux-Fort is ours… If Vieux-Fort advances, we will all advance. When it progresses, we will all progress, but if it remains stagnant, then we will be left with an uncertain future, and fail all the children who will be the men and women of tomorrow," Denbow- Bullen said.
She called on her fellow councillors to commit themselves to working with her and the staff of the Vieux-Fort South Constituency Council in an effort to improve the standard of living of the community, especially in the area of sanitation and hygiene, health care, education and recreation.
The new Mayor gave the government officials present, the assurance that she will do everything within her power, with the limited resources available, to live up to the confidence they had placed in her.
She described her appointment as an honour, and one that leaves her with a deep sense of humility.
Permanent Secretary in the Department of Local Government, Juliana Alfred told the councillors that the ministry is available to provide them with the technical support to carry out their mandate, reminding them that financial resources available to them were limited.
She urged them to use their skills and networking to assist in carrying out their mandate.
"We are available to guide you through the process, providing whatever support that we can to enable you to execute your mandate in the next two years. Our doors remain open to you…," she said.