PETER and Company Distribution/Goddard Group are the champions of the 2016 Kentucky Fried Chicken/St. Lucia Chamber of Commerce Commercial Basketball League.
On Saturday evening, over 300 fans at the Beausejour Indoor Facility witnessed PCD/Goddard Group hold their nerves and pulled all stops to defeat an impressive Saint Lucia Fire Service team in overtime 66-61 in a match described as a thriller.
With the scores locked at 54-all in regulation time, it was all to play for as the two teams went all out at each other. Fire Service's big man, Desmond Vidal, the leading scorer in the tournament, was eventually fouled out with 3 minutes and 25 seconds left on the clock.
For Goddard's Group, Troy Louison had 32 points, 8 rebounds and 8 steals. The defending champions won the title in a similar fashion last year against a very impressive Sandals High Risers team at the same venue.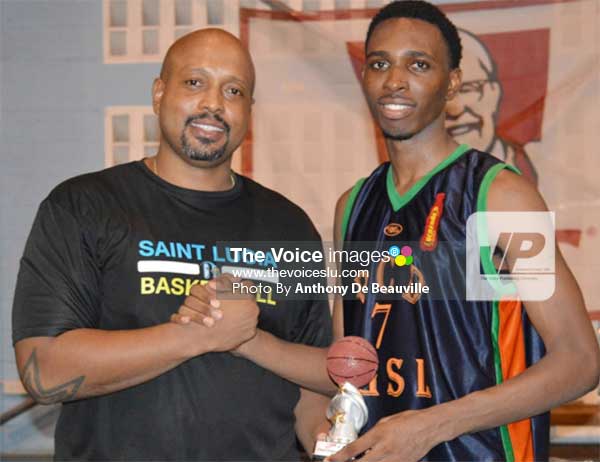 In this year's competition, the firemen had on the roster the biggest and most dominating trio in the competition – Desmond Vidal, Jerry Charles and Marcian Calderon. Despite that, the Louison brothers Andre and Troy were never intimidated as they went into overdrive to ensure victory for their team.
Following the showpiece, a number of awards were presented, namely Most Points: Desmond Vidal (SLFC), Most Rebounds: Desmond Vidal (SLFC), Most Blocks: VachelCherubin (SLPF), Most Steals: Troy Louison (Goddard Group), and Most Outstanding Player: Troy Louison (Goddard Group).