Meet D'Mii Charles of Desruisseaux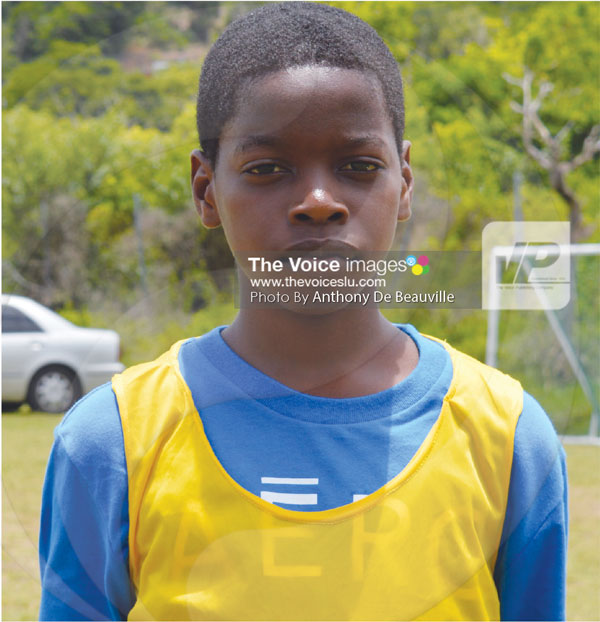 WITH St. Lucia's youth football on the rise and doing pretty well presently, 13-year-old D'Mii Charles, seems poised to keep that momentum going.
Charles, a member of the St. Lucia Football Association's Grassroots programme under the banner of the Ti Rocher/ Desruisseaux Football League, is the future of football.
He is a utility player, playing left wing (defender), but loves being up front as a forward (striker). As such, one can hardly imagine the trouble he causes for defenders with his dribbling skills.
He says he is equally comfortable playing on the left, right, or in the centre of an attacking three. With his eyes set on the bigger picture, he is expected to be one of the main creative forces for St. Lucian football in years to come.
Charles, who is in Form 2 at St. Mary's College, says that his favourite subject is history because he likes learning about other cultures and how they develop. He also loves French. So far it has been easy going learning the new language and being able to speak to other people.
The VOICE caught up with this aspiring and intelligent young football hopeful during the closing ceremony of the Ti Rocher/Desruisseaux Grassroots Summer Camp held at the Beauchamp playing field recently.
The VOICE: What caught your interest in sports?
D' Mii: When I was about four years old, I put on the television. Instead of putting it on a cartoon channel, I switched to a sports channel. Manchester United were playing. From then on, they have been my favourite team. Later on in life, I got to know Ronaldo de Assis Moreira (Ronaldinho) and he became my favourite player. Even though he has since stopped playing football, he is still my idol.
The VOICE: Does any other member of your family play football at any level?
D'Mii: My father, Kenneth Charles, loves football. My mother isn't that much into it so I got it from my father.
The VOICE: Share the secret, what exactly did you learn at the camp?
D'Mii: It has helped me a lot because it taught me discipline and the basics of the game so I can do better in life on and off the field of play.
The VOICE: What are your goals in life; what is it you're aiming at?
D'Mii: I really want to be an author, but football is my secondary job. If I cannot be an author, I will hold on to football.
The VOICE: How far you would like to reach in the sport?
D'Mii: I would like to play for my school, then represent St. Lucia in the various age groups and go on to represent my country at the World Cup. My dream is to go to the United Kingdom to play for Manchester United. I look forward to being part of the annual Digicel Kick Start programme in collaboration with Manchester United.
The VOICE: You're still at a very tender age. What advice do you have for your peers?
D'Mii: This is my third year attending the camp and I have come to know almost everyone. It was a good experience again as I was continuously able to show my ability, how good I can play the sport. I would tell the young players to be disciplined at all times and take the game seriously. Also, respect the coaches and the players you are playing against.