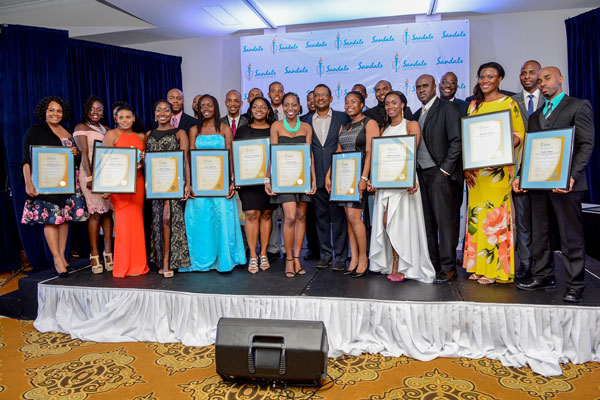 After a two-year journey which saw them working the ranks in every department in various resorts all across the region, 25 participants in Sandals Resorts International's (SRI) Management Trainee Programme have officially shed the trainee title and will now move into management roles, following a graduation ceremony held last weekend.
The new managers were selected from a pool of 1500 applicants two years ago and include a number of Jamaicans as well as nationals from St. Lucia, the Bahamas, Grenada, Barbados, Antigua, the Turks and Caicos Islands and both previous employees of the Sandals/ATL Group and new recruits.
The Management Trainee Programme (MTP) identifies and grooms outstanding young recruits to become managers in the company through a two-year programme of hands-on learning and training at resorts across the region. All participants experience rotations through various positions and departments across the group before selecting an area of specialization. The MTP is the centerpiece of SRI's Management Succession Planning Strategy and is one component of the company's ongoing efforts to invest in capacity-building throughout its operations.
Speaking at the graduation ceremony held at Sandals Ochi Beach Resort, Wayne Cummings, director of business processes and administration, himself a product of the MTP, reaffirmed the company's commitment to investing in young leaders. "This Group is on the move", he said, " this Group is growing and for us to grow and evolve we need to invest in people. We need to invest in the new leaders of the Group."
As the graduates move into their new roles within the company, Cummings urged them to always remember their journey and treat their colleagues with respect. He said, "Remember the things you went through, remember your subordinates. They are your colleagues and they are even more important than you. Have a very healthy respect for them as you seek to lead them."
He also reminded the new managers of the limitless potential within each of them as well as within the company. "You are competent, you are able and you are at the right place, at the right time and with the right company. The journey has just begun. We are a company on the move", he emphasized.
In delivering his address as valedictorian, Kent D'Hayle expressed pride in both himself and his colleagues for successfully completing the rigorous programme. He said, "As I look into the eyes of my fellow graduates I see and feel the sense of personal pride and satisfaction knowing that we have completed a programme which sets the stage for us to continue our careers, as leaders, managing a range of diverse departments."
In a similar breath, Andre Cleghorn and Danielle Daley, who both delivered the vote of thanks, expressed gratitude to the company for providing an opportunity to grow both personally and professionally. They encouraged their fellow graduates to move forward with confidence and to continue making their families and the company proud.