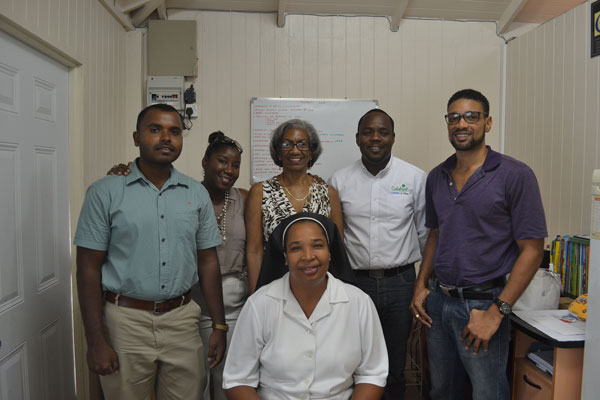 The board members of the St. Lucia Realtors' Association visited the Holy Family Children's Home at Ciceron, Castries on Tuesday, September 13 when President of the Association, Welcome St. Rose, presented a check to the institution on behalf of the realtors.
The $1,000 donation was received by the Home's Director, Sister Antonia David, and the money will be used to provide school uniforms as well as transportation for the new school term for some of the children.
Sister David was full of gratitude and praise to the realtors as the group toured the premises, met some of the students and staff and learnt about its operations.
The home currently provides care for 11 children who live on site and attend various schools. The children, who range between 3 months and 12 years old, were referred by the social services department. They come from unconducive conditions whereby their parents cannot provide adequate care. In many cases, the fathers are absent from the children's lives.
The institution gets by on a monthly grant of approximately $4000 from government. In addition, the Home has had to contend with numerous break-ins during which food supplies, garden produce and educational tools have been stolen. The kindness and generosity of corporate sponsors and private citizens is therefore critical in order for the Home to continue caring for the nation's children.
Undaunted by their challenges, the staff of the Holy Family Children's Home have a grand vision for their institution. They have drawn up plans for the construction of a new wing, which will include additional residential accommodation as well as educational and recreational facilities.
So far, the home has raised $100,000 toward that goal. This is a notable accomplishment; however, it is a far cry from the total needed, which is well in excess of $2,000,000. The Home conducts regular fundraising activities, including a charity dinner slated for October 9 at the Johnson's Centre. The public is asked to play its part by purchasing tickets and attending the event.
The St. Lucia Realtors' Association hopes this contribution will be the beginning of a long-term relationship with the Holy Family Children's Home. This falls under the association's mandates of community building and social responsibility.
The main focus of the association's work has been to lobby for the legislation of St. Lucia's real estate industry. The association believes it is imperative to license every real estate practitioner on the island in order to improve the climate for doing business in the country.
In that regard, the group has set up an accredited real estate course at Monroe College. Approximately 30 realtors have been certified. The association has also prepared a draft real estate licensing bill, which has been vetted by the Ministry of Commerce and is in the Attorney General's Office awaiting further action.