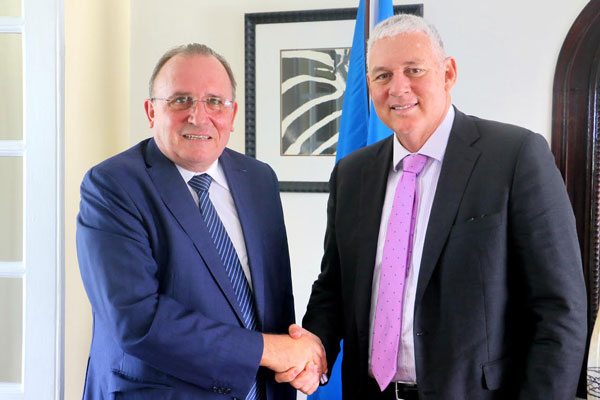 After a three-year tour of duty, the French Ambassador to Saint Lucia, Eric de La Moussaye, has begun to bid official farewells to government representatives at the highest levels of State.
On Thursday, he paid a call on Prime Minister Allen M. Chastanet at the Prime Minister's Official Residence in Vigie, Castries.
Prime Minister Chastanet said the Government and people of Saint Lucia were exceedingly grateful for the tremendous contribution that the Government of France has made. He believes the Ambassador's accomplishments will continue to benefit the island long after he has moved on.
"(Ambassador) Moussaye has clearly made a significant and exceptional contribution in many ways. I believe his presence was felt in several areas of bilateral engagement. His dedication and commitment has indeed been unwavering" the Prime Minister remarked.
The French Ambassador for his part has singled out five key areas of achievement that he has found to be significant milestones during his tenure and underscored several areas of success: "I would like to highlight the strengthening of cooperation in the area of security by re-establishing a Joint Commission between France and Saint Lucia. Before I leave, I will be signing two important agreements about mutual assistance and extradition with the Prime Minister. Secondly, there was a lot of effort to foster cooperation between Martinique and St Lucia."
The Ambassador explained that promoting the involvement of French enterprises in Saint Lucia and trade exchanges with the French departments also realized successful outcomes.
"We also supported the initiatives of the government in the field of Sustainable Development after COP21. We must also highlight the promotion of the French language and Cultural Cooperation in partnership with the Alliance Française in Castries."
Ambassador Moussaye arrived in Saint Lucia on September 25, 2013, and departs at the end of this month. He will be immediately succeeded by the new Ambassador, Philippe Ardanaz, from October 1, 2016.