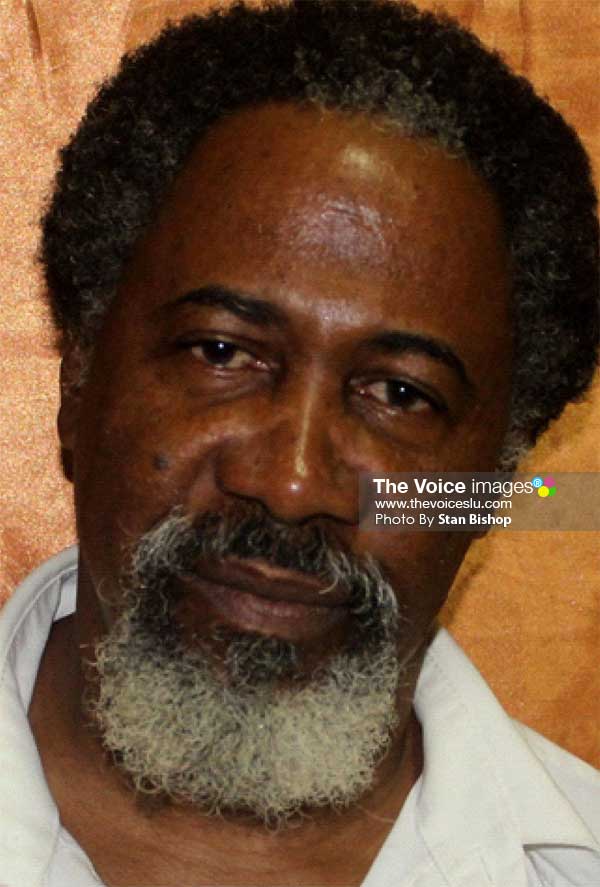 WHEN it comes to art, Saint Lucia has done remarkably well in producing some of the world's outstanding pieces and people in the craft. The likes of Sir Dunstan St. Omer and his sons Alwyn and Giovanni have painted our landscape poetic over the years.
Even Nobel Prize-winner, Sir Derek Walcott paints a masterpiece or two whenever he gets tired of penning poetic lines and watching sea gulls feed on the beach. So much so that Sir Derek has on occasions said that he prefers to paint than to write. Through painting, he said, his magical words of poetry come to mind, then page, then life.
The above-mentioned artists are but a thin slice of the total pie of artists Fair Helen has either produced or harboured. The list might be as long as that of our list of poets. Despite all this talent, however, art in public spaces is not commonplace in Saint Lucia. In fact, art is virtually missing at public parks and barely a frame or two show up in public buildings.
Recognizing this deficiency, a bold new group of artists has decided to bring their brushes, canvasses and energies together to not only make art a common thing in public spaces but make it become a natural part of our everyday lives. Further, they want us to buy more pieces of art.
The Artist Circle began last May as a way of providing a platform for artists to exhibit and discuss their work. With promises of a national museum remaining just that, the group's president, Ken Lawrence, said the movement now gaining ground is an attempt to correct many injustices artists face.
"There seems to be no sort of respect for artists," Lawrence told me. "The artists are also not able to command the public's attention. There are so many things we want to do to improve the fabric of society into something of beauty. We've seen the straying of attentions and swaying of interest by the community at large into things that do not embellish the society. So we're trying to correct this injustice."
Lawrence has been painting for more than three decades. He started as a sculptor and later became a painter. Lawrence is a self-taught painter but much of his knowledge of sculpting came from Vincent Joseph Eudovic, with whom he worked for four years before opening his own atelier where he often hosted exhibitions. He recalled the seemingly best days for Saint Lucian art, a time when art was a more of a movement for positive change.
"We had a group called 'The Camp' which was very popular back in the day. We participated in exhibitions in Berlin and in the Caribbean and our work was well recognized and received by many people, especially from Europe," Lawrence said.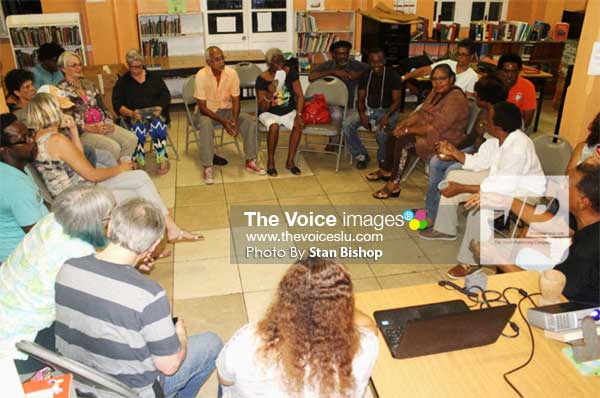 He added: "Back in the 1980s, artists had those avenues where we exhibited our work to the public. There was excitement then and the response from the public positive. There was also a high level of competitiveness among artists then and we piggybacked on each other's art. So there was that necessity to get better at our craft. That really propelled us at the time."
Lawrence later began working his regular full-time job in the system but kept connected to his artistic passions. It's not been an easy struggle, he told me, but one of "blood, sweat and tears", defying the many odds most artists face in a society that barely appreciates art.
Lawrence says he believes in traditional art and does his best to immerse himself in that realm. He also believes that one needs to have a solid foundation and recognize that there is a technical faculty that one must aspire to have before the imagination takes over.
"One needs to look for things that are pertinent to making good art, art that has those qualities such as compositions, values and subject matter," the middle-aged artist said.
After growing tired of noticing every artist seemingly operating in his or her own little niche and prefers to stay there, a few founding members of the Artist Circle made several calls for artists to come out and express themselves and unify so that artists can have that voice again. It's a difficult task to undertake, Lawrence confessed, but the Artist Circle continues to appeal to all artists to come on board to attack the problems they share.
"As it relates to art in Saint Lucia, we don't have the encouragement, the supporting facilities and, most of all, we don't have the respect," Lawrence lamented. "We are not able to command that, either, because the people who are in positions and are able to help us do not show that sense of value. They don't see art as an intrinsic part of the development of the nation."
One of the objectives of the Artist Circle is to get people to recognize the fact that if they cannot see outer beauty, then they cannot recognize it internally. It's a two-way thing, Lawrence believes, that augurs well in getting people to appreciate art again.
"We need to have people who can appreciate the things in society that are valuable to us as a people who have a voice, spirit and vision for something that can elevate their standard of society," Lawrence explained.
The Art Circle meets every Monday from 10:00 a.m. at Alliance Francaise. Artists and other supporters of the arts are welcome to partake in the Circle's interactive discussions during which short videos are played and artists' works displayed.
During a special 'Circle' meeting held at the Central Library on Monday evening, the discussion took on various topics that ranged from comparisons between Salvador Dali and Picasso to how crucial a role art can play in a society's development. Among the two dozen artists were AlcinaNolley, Adrian Augier, Chester Williams, Lyn Bristol, Ken Lawrence and Gary Butte.
The Art Circle is currently preparing for its first exhibition in December. As such, an appeal is being made for sponsors to come on board to bring more art to the people.