'Go Fly' Awaits Nod To Service OECS Routes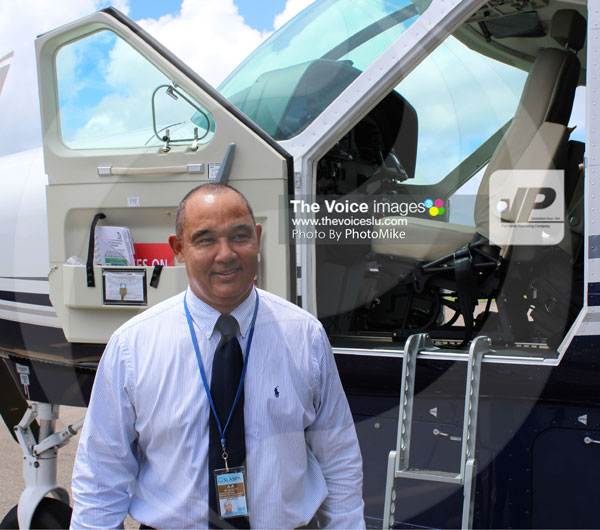 AN effort is underway to give additional life to the striving civil aviation hub St. Lucia was, in the Eastern Caribbean several years ago with the recent introduction of a new airline, Go Fly Airline.
Mario Reyes, St. Lucian pilot and aviation professional for the past 30 years, is the founder.
Reyes is well-known in local aviation circles, having had business connections with small airline services before, the most prominent, being the now-defunct Helen Air.
He, along with several Caribbean personalities, including several Prime Ministers, have complained about the dearth of regional airline carriers and the astronomical costs of regional flying.
Go Fly Airline has not been cleared to do any commercial flying in the sub-region. However, the impression is that it will be a low cost airline compared to the incumbents flying the regional skies.
Go Fly Airline has only one aircraft to its name presently, a Cessna Caravan EX, capable of holding 12 passengers.
"Our intention is to operate in Dominica, Martinique, St. Lucia, St. Vincent and the Grenadines, and Grenada in the first instance," Reyes said.
The aircraft is presently sitting on the tarmac at Vigie Airport awaiting authority from the Civil Aviation Regulatory Authority.
"The big question mark right now is getting regulatory authority to operate the aircraft in question," Reyes said, adding that lack of approval from the regulatory authority to date has to do with the aircraft's single engine configuration.
"….We are looking to our evaluation right now and after that we would be presenting to the regulatory authority the proposal and see how it goes from there. Everything depends on the regulatory authority," Reyes said.
"Our intention is to provide direct services, mostly non-stop among OECS territories which would eliminate a lot of overnight accommodation requirements and airport fees," Reyes said, noting that this could hopefully reduce the cost of travel within the sub-region.
"This is a St. Lucian initiative, with St. Lucian investors. St. Lucians are driving this," Reyes said.
Reyes believes that since Go Fly Airline will engage in a direct service, ancillary costs will be cut out of the equation, hence making travel cheaper.
He added that the airline is open for business to investors, including institutional investors, like governments, for instance.
"We will be approaching different governments, institutional investors to take part in this enterprise," Reyes said.