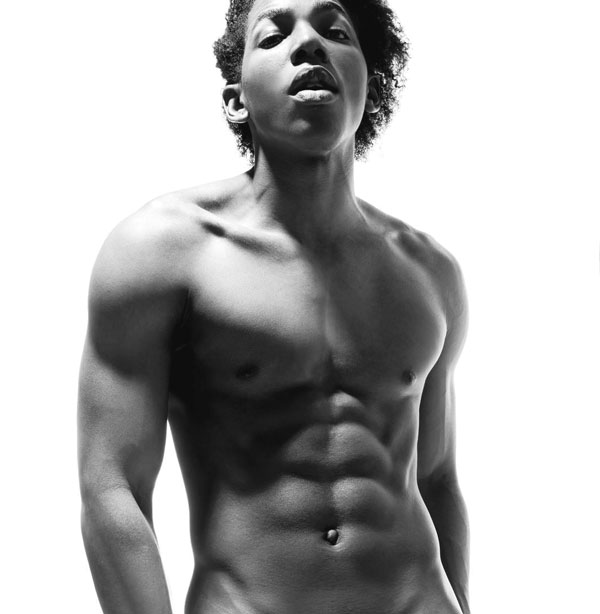 I know that you might think that I have a thing for models, seeing that I have already featured a few; however, they have all been through completely different experiences and so, their stories are all unique and interesting at the same time.
As you guessed, today's FITC is yet another model, but like the others, this one has his own story to tell.
Treasure Actille is a young but larger than life character who just oozes star quality.
Although he was born in Pennsylvania, he was raised in St. Lucia and has lived his entire life with his eyes on the prize of entertainment.
Today, he is chasing that prize by pursuing a career in entertainment in the US, and although he dabbles in music and acting, his main passion lies in the fashion industry as a model.
Treasure is definitely a son of the soil to look out for because with his charming and funny, yet intelligent personality, added with an insatiable hunger to succeed, it is only a matter of time before he lives up to his name and is celebrated as a treasure of St. Lucia.
The VOICE: You burst onto the scene as a model in the very first Hot Couture of the St. Lucia Jazz and Arts Festival, was that your first stint of modelling?
Treasure: My first runway modelling job was for the JQ Mall Fashion Show, then Sandals Strut for a Cause and then I took part in St.Lucia Hot Couture. I've since done small commercials and runways in New York also.
The VOICE: Whilst male modelling is big business in the world of fashion, it is quite the opposite here in St. Lucia. So what attracted you to modelling?
Treasure: I was told by countless people that I'm tall and handsome, and that I should model. So I did some research to find out what modelling was, and then tried out for auditions in St.Lucia. I was successful in every one of them. Being very sociable, I knew that it would have also advanced my interpersonal and communication skills.
The VOICE: Looking back at Hot Couture, surely that was the biggest stage you had ever walked on back then. How did you feel reaching that point in your career?
Treasure: I was like; MONEY!!! I also realised that I had more work to put in to make the organisers and the St. Lucia Tourist Board proud, for it's the island's biggest fashion show to date. It was also an eye opener for me to take this career internationally. So overall, I felt content in pursuing modelling on the island.
The VOICE: : It's no secret that the show, as successful as it was; it was also filled with controversy. One of those controversial moments was the fact that men were made to wear lipstick and handbags. What was your take on that idea then, and knowing what you do about the fashion industry now, how has your view on the matter changed, if it has at all?
Treasure: I honestly was surprised that we had to wear lip paint for that particular segment of the show; however, I was told it was for a tribute of someone who had passed. In addition the handbags was specifically made for men but on an island which isn't educated on various types of fashion, it sparked an outrage which eventually gave the show the publicity it needed, to know that there is a fashion market in the Caribbean.
The VOICE: Another massive controversy about the event was the issue that was raised about the way models in St. Lucia are ill-treated and exploited by some local modelling agencies. One can only imagine that the situation is worse for males. What are your views on the matter?
Treasure: There are agencies on the island which are not educated about the industry, principles of business and human resource. I know they want to create opportunities for aspiring models, but these directors need to get their act together and deliver what was promised if they want to be successful on the island. Furthermore, since females are more in demand, they are the ones more exploited and ill-treated.
The VOICE: Generally, it is almost taboo to see a man modelling in St. Lucia, as this is seen by many as a "Women's Industry". Men have even been ridiculed and in extreme cases, have been labelled as homosexual. Why do you think this misconception exists so strongly here and in fact, what is your view on it?
Treasure: I vehemently believe that if St. Lucians gave constructive criticism in a holistic manner for some of these designs, then designers will create more masculine attire for their presentations; however, I don't know their target demographic. St. Lucian men should understand that modelling can be for anyone. When people are idle, they sometimes create negative stereotypes to destroy one's social identity.
The VOICE: Do you think there is an avenue for male models to succeed in St. Lucia?
Treasure: Yes, there is one; however, it begins with the male model's mind-set. Furthermore, the private and public sectors must give these male models an opportunity to showcase their talent and skills which benefit both the model and business enterprise. There is little that designers and agencies can do for models in general and it's time for these aspiring male models of St.Lucia to show the global market that they have what it takes to be successful.
The VOICE: What advice would you give to your fellow St. Lucian male models and also to young men aspiring to be like you?
Treasure: Dream, achieve then receive all the benefits of what you had aspired to be. Stay focused, because people also can distract you from your purpose. Also, if you feel that you have the look and personality to be international then travel wherever that market needs you. I know you can do this guys and remember…it's not modelling fun time, it's modelling business!