Producer Sherwinn Brice's Love Affair With Music
THIRTY-THREE-YEAR-OLD Saint Lucian/American singer/songwriter/producer, Sherwinn "Dupes" Brice, has had a love affair with music for as long as he has loved it. He has kept pressing on through its many seasons and is probably guilty of loving it too much.
Born in the United States Virgin Island of St. Thomas, in 1983 but raised by his parents, Samuel and Esther, in Vieux Fort, Brice has a musical background that includes reggae, pop, R&B and classical genres. Brice, whose mother is from Soufriere and father from Mon Repos, got his early start in music out of necessity.
"I got into music because of my love for it and the fact that my father was looking for some extracurricular activities for me outside of just being a cadet," Brice told me recently. "He used to tell me that he wanted me to have that musical talent so that if ever I was in a situation whereby I could not make anything out of life, I could at least hit the street corner, sing some music and pick up a few dollars. So I just fell in love with music from then."
He said he has been listening to music for as long as he can recall. His mother was a huge fan of New Kids on the Block, Bobby Brown, New Edition and Boyz II Men. His father had a small Casio keyboard on which he would often practise.
When he officially moved to Saint Lucia around 1991, Brice got disconnected from music for a little bit but by the time he was attending Vieux Fort Comprehensive Secondary School (VFCSS), he was taking music lessons full time. He was hooked.
"As a boy, I used to watch and listen as my father played "Chopsticks" and stuff from the Eighties on the keyboard. He would also strum a few reggae chords which I would later emulate. He wasn't really a professional musician but more of a music lover," Brice explained.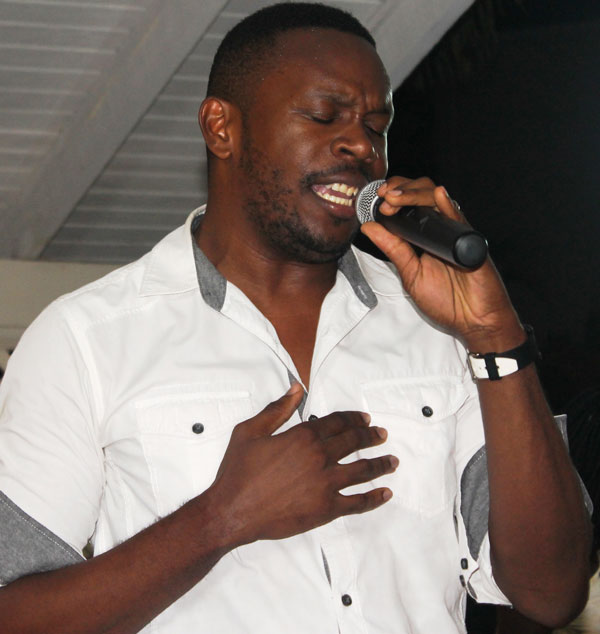 Brice said he realized that he was stuck with music around age 15, when he was entering Form 5. He recalled attending a Christmas pageant where his sister was performing. As luck would have it, the keyboard player could not make it to the event, so after being asked to fill in, he obliged and played a few Christmas songs.
"They told me I needed to join the high school band, which I did, and I have been playing music ever since," the musician noted.
After noticing that his interest in music was growing rapidly, his father got him a keyboard that was used at Madison Square Garden whenever games were held there. Brice played the instrument non-stop, playing to tracks from the Dominican band, WCK, he had recorded on an audio cassette.
He went on to receive formal training in music, going as far as receiving distinctions in Grades 1 through 4 in music theory at the Associated Board of Royal Schools of Music (ABRSM). However, despite having a private tutor, he did not sit the ABRSM practical exams for two reasons.
"I think I had Attention Deficit Hyperactivity Disorder (ADHD) so I never really had the patience to sit down and master the practical side of music at that age. Also, I really wanted to play popular music and wasn't interested in reading sheet music. Those skills have helped me so much now but it's just like everything else – you don't appreciate something unless you apply it to a real-life situation," Brice explained.
Realizing that he could record beats on his Korg N364 keyboard at the turn of the century, Brice, inspired by the release of Dr. Dre's album, "The Chronic 2001", decided that he wanted to produce music.
After graduating from VFCSS, he went to Connecticut to pursue courses in computer programming and networking. With the first $300 he saved up from his part-time job, he bought a Tascam 4-track cassette recorder and loop software. Hooking everything up to his guitar and a microphone, Brice started experimenting making beats and beat tapes.
While at college, he met a friend who showed him a thing or two about creating beats. After returning to Saint Lucia in 2001 with a technical certificate in hand, jobs were hard to come by, so he thought about doing the next best thing: joining a band. However, his father would give him a piece of advice that still remains relevant.
"He told me that if I wanted to do music, it's a very expensive hobby, so I would have to figure out a way to support it," Brice said. "So I started my own small business that comprised an Internet café. But I was always tightly-knit to the music."
Hooking up with friends Mecca and Shepp Dawg was a major move in Brice's career. After finding out that a friend of theirs wanted to have his song recorded, Brice offered to give it a try. It paid off handsomely in some ways.
"The song didn't really make it big," the music producer said. "However, it was definitely a joy to hear music from the south on a CD. The song got much airplay and people could not believe that a teenager was putting CDs out like that. Mecca, Shepp and I took it from there because we realized that if we actually worked together, we could make things happen."
Brice's nickname was influenced by Ginuwine's song, "Superhuman". Shepp Dawg and Mecca figured that since Brice was a multi-tasker, the nickname suited him. Shepp Dawg later suggested "Super Dupes" and Mecca felt the shorter nickname "Dupes" was enough.
Brice later became part of a record label, PCL, which produced for PCL Crew, later recording their first track, "Get Bent", in one go at another producer's studio after the group was told that the session cost $1000.
The musical maestro said the song, "Got To Be There", was the first song that really gave him his shine. It got much airplay and even his father was pleased. Buoyed by that success, Brice immersed himself in his music, performing with the band at various gigs. But the chemistry, he said, was not there for long and work overload proved too much. After members started slipping away, he decided to go solo in 2013.
Brice considers himself a perfectionist and admits to having a strong work ethic not unlike that of his father. He has teamed up with Nelson "Cherry L" Serieux on a seminal track. But it was his collaboration with Shayne Ross on "Take You Home" that opened him up to the world of Francis "Leebo" De Lima after they were told that "Leebo should put a touch to it".
Over the years, Brice has produced music for a long list of artistes, including Kayo, Mecca, Shepp Dawg, Ninja Dan, Kakal, Shayne Ross and Cherry L.
The song, "Guilty" was the high point of Dupes Did It Music, Brice said. He teamed up with Leebo, who worked with other artistes for two nights each week for close to two months putting the song together. Arthur Allain, Oneka McKoy and Ronald "Boo" Hinkson appear in the music video still on rotation on local television stations.
A few years ago, Mecca released one new song per week for an entire year. Brice said that while 52 songs were released, he produced 72 of the total 73 songs for that produced. Six accompanying videos were also shot during a one-month for the songs released during that period. Also, there were mix tape releases every three months. He said the effort proved that saint Lucian artistes are willing and capable of being creative and pushing the music vibe.
"Like Ronald "Boo" Hinkson, Leebo and all the other advocates for building the music industry, we at Dupes Did It Music know it's not an easy job. There are sacrifices that we make for music now that will make it easier for people in the future," Brice said.
Brice is set to release his first full-length solo album, "3D", on October 30. The album features 12 songs and spans various genres, including R&B, EDM, rock, dancehall and reggae.
However, the album can now be pre-ordered by logging onto pledgemusic.com/projects/dupes-3d as part of the artiste's partnership with PledgeMusic, which specializes in crowd-funding and pre-ordering of musical projects. You can also pre-order at www.sherwinnbrice.com.
The album, he said, represents the depths, layers, multi-faceted nature of his music. It's also about his dedication to music, the single-most thing that has defined his life.
His EP, "From Saint Lucia With Love", was released last October and features five tracks: Keep Pressing On", "Guilty", "Dip Pon De Floor", "Your Body" featuring Hebrue and "Seasons" featuring Olivia Abraham.
Brice was part of a regional contingent of artistes that was invited to Germany last year at the invitation of the Calypso in Berlin project which seeks to create opportunities for collaboration between Caribbean music industry participants (songwriters, performers, producers/arrangers) and Berlin-based colleagues, Lord Mouse and the Kalypso Katz and Calypsonian GBR. Barbadian Grammy Award-nominated musician, Nicholas Brancker, served as the delegation's project manager/artistic director.
While winning a Grammy Award someday for his music is one of his top priorities, Brice said he will continue to tirelessly write, produce, sing and record music that brings out a soulful flavour. Having been taken places by music and having it return him the favour, he believes that pressing on is his only option with his love affair with music.
"There's something going on with music and people still appreciate it and So Dupes Did It Music and Saint Lucia need to be a part of that," Brice said.