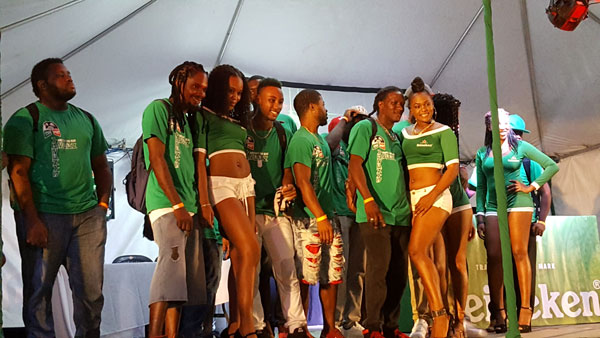 It is expected to be the grandest DJ competition held here in Saint Lucia, including rewarding winners with the largest prize purse, when Heineken Green Synergy takes it to the beach for the final of this year's competition.
Sunday's final, one of the most popular fan-based events here, Heineken Green Synergy, is what Mindy Chicot describes as a beach-vibe like no other. Chicot is the Junior Brand Manager (Global Brands) at Windward and Leeward Brewery Ltd (WLBL), organizers of the event. She says that so far the event has been a great experience with fans turning out in large numbers for the Green Synergy Reloaded events, as well as last Sunday's semifinals.
"This Sunday, not only are we rewarding the winners in a big way for their efforts, but we have numerous surprises in store for our fans and supporters of Heineken Green Synergy," Chicot says.
As has been the case for several years now, the competition is being held in two segments. The "Skills" segment is expected to test DJs' ability to mix different genres of music while using different tricks and techniques to wow the crowd during their ten-minute set. Then there is the "Clash" segment in which DJs use snippets of songs to counteract an opponent in a tune for tune duel.
Following a massive semifinal showdown in Vieux Fort last Sunday, where thousands of fans turned out on the Ka Ka Bef, nine DJs were selected by a panel of judges in the "skills" segment to move into the final. They are Ti Boog, DJ Moko, Play in HD, DJ Static, DJ Swalli, DJ Licence, DJ Shaba, Fusionist Atta and DJ Nedley. They will come up against the 2015 defending Heineken Green Synergy champion, Ecstatic Entertainment. The skills DJ winner will walk away with EC$18,000 in cash and prizes.
The "clash" DJs making it to the final are DJ Thuram, Twinz of Twinz, Twis, Deal, DJ Shad and Mega B/Play in HD. In addition, fans were given the opportunity to vote for a "fan favourite" for the final by voting on the Green Synergy Facebook page. These "clash" DJs will come up against last year's winner Lil Yute. The winner in the Heineken Green Synergy "clash" competition will walk away with EC$8,000 in cash and prizes.
Sunday's Heineken Green Synergy finals will also feature a medley presentation with past Green Synergy winners and guest appearances by Heineken Green Synergy regional champion, DJ Paulie from St. Maarten as well as Scratch-master.
The event will exemplify this year's theme, "amplify the beat", by featuring three stages — engaging fans to travel through a world of music as foam pits, bubbles and fog will be used to transform the Pigeon Point venue. The Heineken Green Synergy ladies will be sexily-clad in bikinis and patrons are also encouraged to come in their beach wear on Sunday.
The event starts at 2:00 p.m. and Heineken will be on special all-day, as organizers bring the heat for the most awesome Heineken Green Synergy DJ Competition final.