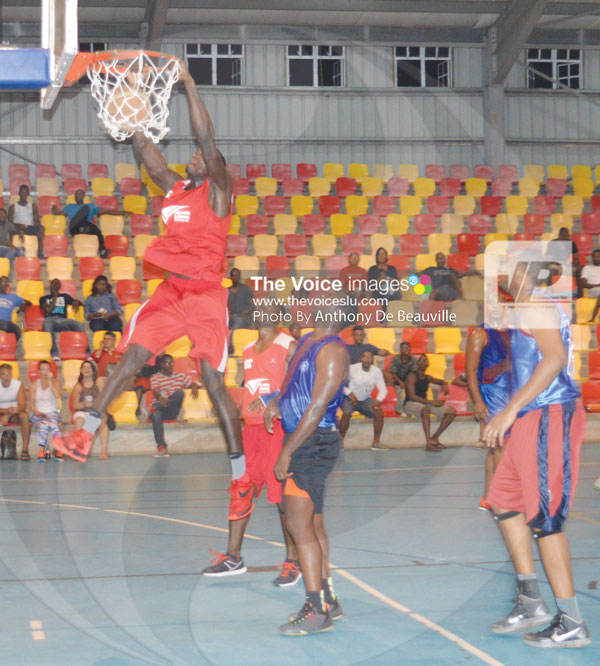 Basketball action continues tomorrow evening at the Beausejour Indoor Facility in the Kentucky Fried Chicken / Chamber Of Commerce Basketball League, from 7:00 p.m. as St. Lucia Teachers' Union play Lewis Industries.
Meanwhile, last Saturday, the St. Lucia Teachers' Union cruised to victory over the Renwick Cosmos 67 – 48. At halftime it seemed that the Cosmos were off their mark having scored only 14 points against the SLTU's 35. Having regrouped after the half, the Renwick Cosmos switched up their game and outscored Teachers 22 points to 10 in the third.
Unfortunately, they were unable to continue with that same zeal in the 4th quarter and Teachers took full advantage at that point.
The KFC player of the game was Nigel Francis who led the SLTU players with 17 points, 6 steals and 6 assists.
To cap off the night, perennial powerhouse Saint Lucia Fire Service went up against Le Sport in what was an historic night for the KFC CBL as former national player Desmond Vidal put up a great showing with 41 points 10 rebounds, leading the SLFS to a convincing 75 – 48 victory.
It was old school versus new school at the centre position with the wily veteran getting the better of Le Sport's Joel Polius in a heated battle down low.
Polius was only able to muster 8 points, 9 rebounds and 6 assists
Leading the way for Le Sport was Lance Prospere who put up a good fight with 18 points.
On Friday, evening, RSLPF Combined Forces and Lewis Industries. The RSLPF squad got the better of Lewis Industries leading from the first quarter to the end. Final score was 88 – 63. The KFC player of the game was Shervon Matthew with 21 points, 9 rebounds and 2 blocks.
For Lewis Industries Johnny Solomon had 17 points, 10 rebounds 3, steals and 2 assists in their loss.
In the second game of the evening, ECFH / BOSL and Massy Stores squared off. Despite a valiant effort from Massy, the ECFH / BOSL squad defeated Massy Stores 66 – 44 and was led by Shamoir Jn. Baptiste, the KFC Player of the Game with 23 points, 11 rebounds 5 assists and 2 blocks Kurt Hyacinth also chipped in for ECFH / BOSL with 20 points.
Massy's Belthazar Nicholas had a double double of 13 points, 15 rebounds in their loss.