Prime Minister Assesses First UWP Government Milestone
PRIME Minister Allen Chastanet has described his administration's first 100 days in office as "a challenging period", adding that "for the most part, we're up for the challenge".
Chastanet spent nearly ninety minutes during Monday evening's press conference at GIS studios outlining government's plans to deal with some of the pressing matters, including providing sustainable health care, creating a long-term economic plan, revamping the judiciary and resolving contentious ambassadorial appointments. The press also posed question to the Prime Minister during a questions and answer segment.
The Prime Minister said government had made inroads in delivering on its 'Five to stay alive' campaign pledge, with reducing the Valued Added Tax (VAT) remaining a work in progress. He said government had commissioned Ernst & Young to conduct a tax audit to review existing tax structures to create a new VAT rate "that everybody's going to be comfortable with".
That Ernst & Young report, he said, should be completed within the next three weeks. However, the Caribbean Development Bank (CDB) submitted its report last Friday which contains its assessment of the Saint Lucian economy. The new VAT rate is expected to be disclosed by the end of October.
Chastanet said the CDB report listed Saint Lucia as having the highest percentage of taxes to GDP, 26%, an indication that government had done "a really good job at raising money from taxes". However, he added that Saint Lucia also had the lowest rate of return on government capital investment.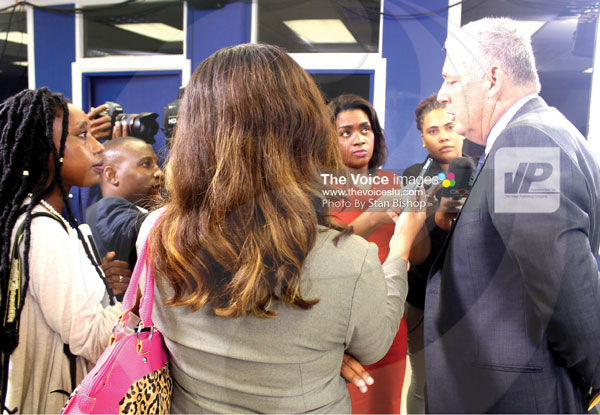 "So the things on which government has spent its money have not produced the same level of returns as some of the other countries," Chastanet said. "Clearly since (the UWP administration) left office in 2011, the economic macro numbers for Saint Lucia have gotten substantially worse than they were before."
Chastanet said government will endeavour to reverse that "unsustainable" trend by shifting focus, including developing a macro policy which will include the new VAT rate "and a lot of new forms of taxation". However, he said any new tax regime will redound to the benefit of Saint Lucians.
"The new taxes that we're looking to (implement) would be less burdensome on the public," Chastanet said. "So we're finding alternative ways of taxing different sectors (in such a way) that it doesn't put as much pressure on the average person, particularly the more vulnerable people in our country."
Chastanet said the 2016/17 budget formulated by the previous administration was 'not well put together" and in many instances "the budget appears to have been grossly underestimated". Government, he said, will nevertheless develop a broad plan to realize long-term growth.
"We're using the time right now to develop our overall plan," Chastanet said. "So it's the intention of our government that when we announce the budget in April that we announce not only a one-year budget but also a four-year development plan for this country."
Meanwhile, Leader of the Opposition, Phillip J. Pierre, has described the government's first 100 days in office as "bitterly disappointing".
"It lacked any substance, any commitment to keep promises made, offered no way forward to meet global challenges and continued the personal attacks on professionals," Pierre said in a press release on Tuesday.
Pierre said that while the previous government had put Saint Lucians on alert that difficult decisions were made in order to counter difficult times that forced government to work within a limited fiscal space, the economy had shown signs of improving. The promises made by the United Workers Party (UWP) during the election campaign, he said, need to be delivered.
"The Prime Minister cannot continue to lament that these are difficult times," Pierre said. "The people of Saint Lucia know that. It is time to deal with the business of government and stop stating the obvious."
Pierre also criticized Chastanet's overseas trips, describing them as "disturbing", adding that many of these trips could have been avoided by using technological means such as Skype. He also accused the government of wanting to sack professionals based on their political orientations and launching attacks on Attorney General, Kim St. Rose and Saint Lucia's Ambassador to the United States and OAS, Elizabeth Darius-Clarke.