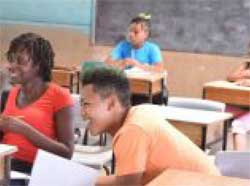 "AWESOME", "fun" and "exciting" are a few of the words that participants are using to describe the Cultural Development Foundation's summer programmes, designed to introduce, engage and develop skills and techniques in a variety of art forms of cultural relevance.
From July 11, children from as young as five were in dance mode at the Vieux Fort Primary School as they were introduced to basic dance skills in dance movement, various dance genres and dance technique. On Wednesday, August 10, over 50 young dance students from the communities of Laborie, AnseGer/Desruisseaux, Vieux Fort, Micoud and neighbouring communities met for their final day of training for the annual Dance Training Workshop with facilitators, Richard Ambroise, Skyla James and Delzy Jn. Baptiste.
The CDF continues in its efforts to providing avenues which nurture, support and develop artistic expression, within the cultural sector. Participants in the Steel Pan Music Theory Training Programme position themselves to becoming more complete musicians. Gregory Piper, facilitator at both the north and south venues for this training programme insists that "the more theoretical knowledge one has, the more one is able to understand what one is actually playing. Many pan men and pan women find themselves playing very complex musical arrangements at Panorama, for example, and are not even aware of the depth and breadth of the pieces that they are presenting."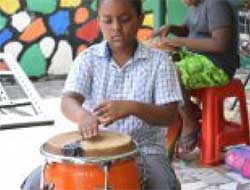 When a musician dedicates time and develops his skill in the building and tuning of a steel pan he is making a significant and direct investment towards his future. Levels 1 and 2 of the Steel Pan Building and Tuning Training Workshops offer participants the opportunity to hone skills in transforming a regular oil drum into a 20th century creation; a musical masterpiece. The 40 hour workshops develop introductory skills and techniques in building and tuning steel pans. The Cultural Development Foundation is indebted to Gregory "Shining" Emmanuel, Gregory "Wahtah" Edwin and Gabriel Robley for their expertise and dedication to the promotion of steelpan building and tuning. Yesterday, participants in the 2016 Dance Training, Steelpan Music Theory and Steel Pan Building and Tuning Level 1, showcased their work in what was expected to be an impressive display at the Vieux Fort Primary School.
Youth Summer Arts Platform (YSAP) got into Week 3 from Monday. During the coming weeks, participants will audition and subsequently be preparing for the final production. nThe YSAP had originally been set to take place in four communities, howeve, CDF has experienced some challenges getting the two newest communities of Vieux Fort and Soufriere off the ground and this, coupled with budget tightening have made it impractical to introduce the programme to the two communities this year.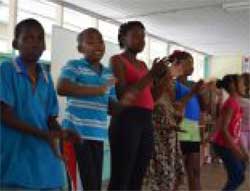 "We're committed to doing more groundwork with the youth and community groups in the southern communities and will subsequently indicate how we intend to proceed with our training programmes. Financial constraints dictated that we make adjustments in Anse la Raye as well and it became necessary that the participants from Anse la Raye travel to Castries for the summer workshops," a CDF spokesperson said..
CDF's Summer of the Arts (SOTA) continues with the annual Emancipation Exhibition at the Blue Coral Mall from August 20 to September 17. The work of Arnold Toulon, Sabrina Romulus and Bill Mortley goes on display following a Gala Opening on Saturday August 20, from 5:00 p.m.
Post Emancipation: The Saint Lucian Psyche – Resistance, Relevance or Resolution will be the underlying theme of the exhibits and the public is encouraged to visit Mondays – Fridays (9:00 a.m. – 5:00 p.m.) and Saturdays (9:00 a.m. – 1:00 p.m.).