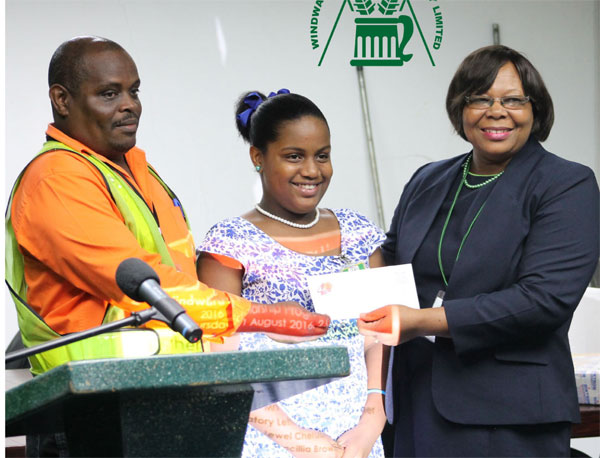 WINDWARD and Leeward Brewery Limited (WLBL) awarded two students with scholarships to attend secondary school at an awards ceremony held at the Brewery recently.
Nadian Joseph and AlazneEstaphane, who are children of employees, were the recipients of WLBL's 2016 scholarships, which are presented to pupils who perform well at the yearly Common Entrance Examination.
"Every year we give out four new scholarships, but we only had two children from WLBL write the 2016 Common Entrance Exam and we are extremely proud of their performance. For the past 40 years, we have viewed our employees as an integral part of our success and this extends to their families as well. The awarding of the annual scholarships to our employees' children is one way in which we support our employees and their children's growth and development" stated Erik Hammer, Human Resources Manager (HRM).
In addition, WLBL also has a textbook scheme where books are purchased for students at primary, secondary and tertiary level. With this scheme, two children per family – including siblings and close relatives – are entitled to participate in the programme. Currently, there are over 140 students enrolled in the textbook scheme.
"The Textbook Scheme which began in 1985, caters to the children of permanent hourly and monthly paid employees and helps them in meeting the cost of primary, secondary and post-secondary level education. All we require is that the employees register with the HR department and bring in the book lists of eligible children and return all textbooks as soon as possible so we can administer the scheme," concluded Hammer.