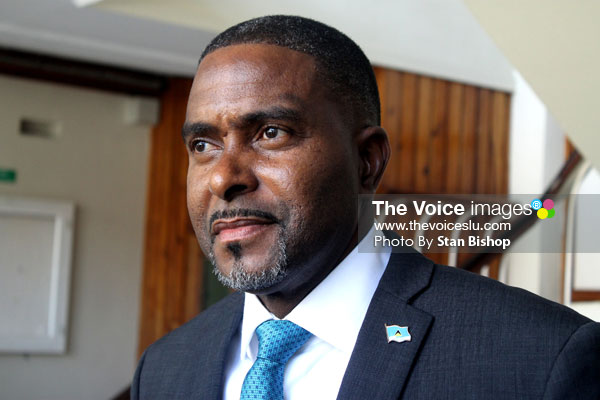 MINISTER in the Ministry of Finance, Dr.Ubaldus Raymond, says government remains resolute in generating increased revenue through more efficient methods while simultaneously reducing its exorbitant debt.
Dr. Raymond said the national debt currently stands at about $2.9 billion, $800 million of which was incurred in the last four years, adding that government currently pays $180 million in interest, compared to the $110 million four years ago.
According to Dr. Raymond, government's recurrent revenue currently stands at around $950 million.
He said that with debt instruments either becoming due or maturing and government's inability to pay down the debt due to limited finances, a decision had to be made to roll over that debt which, he said, will not result in increased debt.
Dr. Raymond said he has since met with the heads of departments in the Ministry of Finance and expressed government's policy sentiment as far as debt management is concerned, adding that government will be replenishing the sinking fund, which is basically money put away to pay off debts when they mature.
Dr. Raymond, who serves as Leader of Government Business in the Senate, said government's traditional approach to the financial markets every six months seeking to raise funds to finance its operations places "a tremendous burden on our cash flow."
"If we missed just one of those payments, we are in serious crisis as far as the financial market is concerned," Dr. Raymond warned.
Two of the loan reissuances he sought Parliament's authorization for on Thursday were loans incurred in August 2006 for ten-year tenures that matured last April. Dr. Raymond said government had no choice but to roll over the debt since no money was allocated for debt payments in this year's $1.4 billion budget.
Dr. Raymond said government will use the amortization method of paying off its debt, which entails paying both interest and principal simultaneously so that when the debt matures, there is nothing left to pay.
"We are taking a very aggressive approach in reducing our debt because debts are not good, especially the unsustainable debt we have in this country, which is something we take very seriously. Our policy decision as far as debt management is concerned will be reflected in our 2017/2018 Budget."
He chided the previous administration for the current high debt level, adding that no records exist of any debt management practices implemented by that administration. He believes that had the last administration remained in office any longer, Saint Lucia would have been "heading to the IMF."
"We are in a very dangerous situation in this country, not just our debt levels, but the unemployment situation," Dr. Raymond lamented.
Nevertheless, he said plans to generate increased revenue include reforming the Inland Revenue Department (IRD) and Customs Department to make them more efficient.
Dr. Raymond said the Eastern Caribbean Central Bank (ECCB), Caribbean Development Bank (CDB) and International Monetary Fund (IMF) are currently conducting a joint diagnostic assessment of Saint Lucia's fiscal state. A report on their findings, he said, is expected by this month-end.
NOTIFIED
"Upon receipt of that report), we will see exactly where we have found ourselves. The public will be notified as to what we inherited as a government as far as the fiscal position of this country is concerned," he explained.
Having inherited a $1.4 billion budget for which, he said, there is no policy statement as guidance, Dr. Raymond said government has no choice but to "try our best in managing what we have within that budget." He said the current environment pales in comparison to that of 2011 when the UWP left office with lower debt levels and unemployment rates.
"We are walking, basically, on a thin thread. So it is an emergency in this country right now as far as debt management is concerned and we are taking on this thing aggressively," Dr. Raymond said.
While Prime Minister Allen Chastanet had previously said that government would seek a supplementary budget should it become necessary, Dr. Raymond said that possibility seems unlikely. However, he said Saint Lucians can expect a 'growth strategy budget' next year.
"It will be a performance-based budget," Dr. Raymond said. It will not be a budget that we just put together and just say it's a mathematical budget."