Flower Festival Hit By Limited Funding.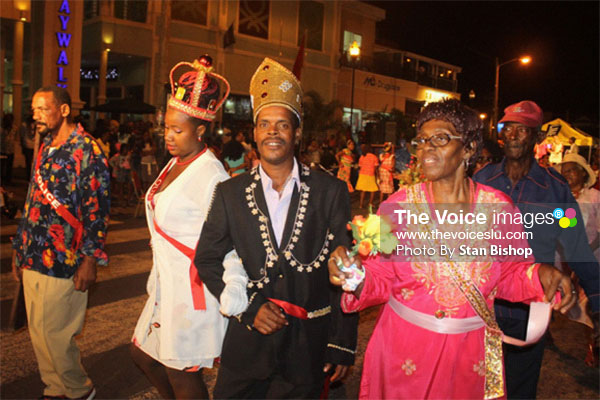 BY this time each year, communities around the island are usually immersed in several séances in preparation for the La Rose flower festival which takes place on August 30.
This year, however, the fire has ostensibly dimmed on a once-blooming festival that brought communities together.
Séances are just some of the many activities held before the grand fete (which takes place on August 30 each year) and usually held on Friday evenings to build momentum. The séances also form part of an educational drive to attract new members to the groups. To date, however, only a few séances have actually taken place.
This year's grand séance will be held on Saturday, August 27 in Rodney Bay (near the Baywalk Shopping Mall), with the grand fete being held in Belle Vue, Vieux Fort on Tuesday, August 30.
For many years now, the Cultural Development Foundation (CDF), the organization tasked with mobilizing the groups from across the island and hosting key events, has received a paltry $20,000 subvention to host the La Rose festival.
A source told The VOICE yesterday that due to limited funding allocated by central government to the festival over the years, the festival has become infeasible to host, especially for the cultural groups who have to pay transportation and other costs.
Most of that funding goes towards defraying transportation costs for the cultural groups that usually received $1,500 each. Due to other costs associated with hosting the festival, the CDF began paying the cultural groups $1,000 as of last year, prompting many to rethink their participation in this year's festival.
Following years of decline in the number of groups participating, the La Rose festival began blooming rapidly due to the CDF's intensive education drive in various communities. Youth participation in the festival also increased.
Last year, 12 La Rose groups participated in the grand fete held in Vieux Fort, including a Martiniquan group.
But, like the other flower festival, La Marguerite (observed on October 17), financial support for La Rose has always been a challenge for organizers. In fact, comparisons are often made between the level of public and private sector funding for the two festivals vis-à-vis that of carnival.
Two weeks before last year's festival, CDF's Director of Events and Production, Drenia Frederick, told The VOICE that many local businesses had acquiesced to CDF's request to decorate their premises to reflect the spirit of the festival.
Frederick had said that commercializing the festival, increasing its popularity, building its numbers and creating a two-year education plan were among the CDF's priorities for the festival. To date, many businesses have yet to decorate their businesses to reflect that support.
The festival is also known as the Feast of Saint Rose de Lima.