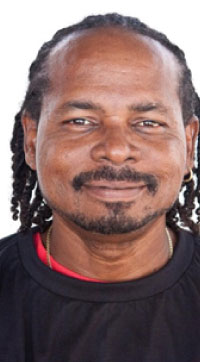 WITH the Goodwill Swimming Championships currently taking place in St. Lucia comes the exciting news for swimming locally in general and in the south in particular that a new swim club, Orcas Aquatics is about to be formed.
The club led by Andy Edward, the former head coach of the Southern Flying Fish (SFF) and former St. Lucia Amateur Swimming Association coach of the year, aims at creating a mass based swim club which will eventually produce elite swimmers.
Among the objectives of Orcas is to make swimming the sport of choice for southern youth. He said: "In order to achieve my aims for southern swimming I found it best that I should move on and form a new club. This was not an easy decision as I had given 11 years' service to the Southern Flying Fish."
Orcas plans to introduce, come September, five day a week practices for its most advanced swimmers, despite having to swim in the sea and in a small hotel pool . This innovation as far as southern swimming is concerned contrasts with the four days a week practices of advanced SFF swimmers.
Another innovation which Orcas intends to introduce to southern swimming is twice weekly lessons for the learn to swim groups instead of the once weekly lessons that presently obtains in the SFF.
"We want to be the club that leads the way, introducing new things to southern swimming", an animated Coach Andy declared.
Among Edward's plans are for a mass based summer programme in 2017 which will feature a large learn to swim segment, the re-introduction of organized swimming in Soufriere, training learn to swim instructors, pre-competitive and competitive programmes in the south, a week long programme open to all advanced St. Lucian swimmers and overseas swimmers in the north, a one day meet in the north and an open water meet in Soufriere.
Since 2005 Edward has developed swim programmes in the south which produced 14 St. Lucian OECS team members, six Goodwill Games swimmers, two CARIFTA swimmers (Christian Andrew and Mark Emanus) and one Central American and Caribbean Swim Championship (CCCAN) swimmer (Mark Emanus) despite inadequate facilities.
Additionally, he guided Plain View Combined team to the 2009 Primary Schools Championships (the only public primary school ever to do so), the Vieux Fort Comprehensive Secondary School to the 2011 and 2012 Secondary Schools Championship and the SFF to top the 2010 Summer Splash meet, defeating all other local clubs and teams from Trinidad Tobago and Antigua and Barbuda in the process.
Those in the know are extremely excited about this new development in local swimming.