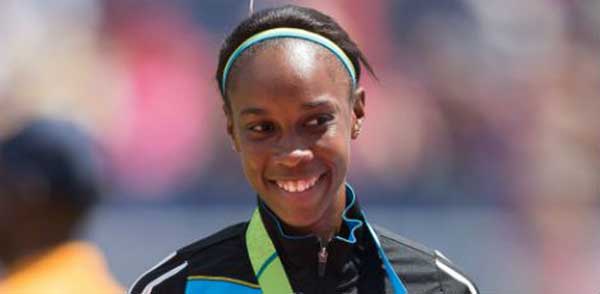 IT is a sad, sad day when you realise that some St. Lucians will just never fail to live up to that horrible, judgemental and unpatriotic reputation that they have seemingly etched in stone for themselves.
Today, I would like to send a message to the ungrateful, bitter yet sour trolls who thought it wise (if they had a brain to even think at all) for them to take to social media to criticise, jeer at and basically make an attempt to destroy the confidence of a young woman who competed against the world whilst representing our nation.
Let me tell you, when I switched on my television on Saturday and I saw Levern Spencer gracing my screen at the Olympics in Rio, the pride I felt was uncontainable to the point that I started to tremble and at one point, I even felt faint.
At that point in time, all I could think of, was "Girl, you didn't even have to make it to the finals to be a sporting heroine and a champion in my books because the fact that you qualified to even be in the Olympics, that alone was testament of your greatness!"
We all saw and know what happened in the end, but nonetheless, that pride drew me to my feet in celebration when I saw the screen showing Spencer at number 6 and seeing my flag next to her name.
At this point in time, there was absolutely no room for negative thoughts or feelings in my heart and mind.
But then, almost as soon as I sat down, I looked at my phone and was hesitant to pick it up to browse social media.
I was hesitant because I knew that Levern would be the talk of the night, and whilst I knew 98% of that talk would be positive, I just knew that there would be a few trolls who would have the bravado to speak ill of the high jumper and her performance.
Nevertheless, I peeked and for a good while, it was nothing but love, but then I saw them, and although I was fully expecting it, I could not stop the rage that was building up.
The worst part is that some of those negative trolls were people who really should have known better…I think that was the part that caught me off guard, because I was not expecting those views from these people at all!
The way these people were talking, you would swear that they were retired Olympic Gold medallists who were speaking from experience as they pointed out the flaws of the young blood Levern…but nooooo, they were coming from people who may not even be able to jump over a gutter on a rainy day in Castries.
Just when I was about to launch into a tirade and call them out by name, I remembered of all people, my mother who is a stickler and watches everything that I say on Facebook and calls me out if I step out of line because she believes that I should always maintain a positive image for myself as a journalist. (I know I'm a grown woman and believe me, I say what I want, when I want to, but I live to respect and keep my parents proud and you better believe that if one of them tells me that I stepped out of line in my choice of words, I would listen.)
Some of them were saying stuff like; "I'm no professional but at the end of the day, she is and she should have done much better because her personal best is 1.98m." Umm Ok, let's focus on the "I'm no professional" part…how would you know if her body was at 100% on the day? How would you know if the temperature was right on the day? (I specifically remember the commentator saying that it was a bit cooler on the night and that although the Europeans might feel comfortable, some of the other athletes might not be) Let's assume that she is human (because obviously to some, she is a robot), how do you know whether she was nervous or not? This is the Olympics Finals after all, isn't it?
Speaking of nerves, I know if I were in Levern's shoes and I knew that I would be on such a grand stage representing an island where some people are so judgemental and ungrateful that my only option to gain acceptance is to get gold medal or die, there would be a trail of pellets following me from UVF, all the way to Rio.
And still sticking to nerves, you people certainly have a bunch to speak negatively about Levern because the only thing you could ever win a medal in, is for running your mouths uselessly!
You know what? I want St. Lucia to win Gold medals at the Tokyo Olympics 2020 so I am making an official call for the introduction of a new event…the "Mouth-Off-a-thon".
But I decree that at least 9000 gold medals should be made for that event because I know that at least 5% of our population would easily beat off any country in the world and tie for the top spot.
I believe Levern did an outstanding job and I am proud of her. I can only hope that your words will float away like the hot air that it is and never reach her eyes and ears…but in the event that she does get wind of it all, I hope that she has the good sense to let it slide off her back like water on a dasheen leaf because it's nothing but empty babbling.