Family of Jean Baptiste Bideau Attend Event.

LAST Friday, activities commemorating the 205th Anniversary of the Declaration of Independence of Venezuela continued with the observance of the Bicentenary of the most relevant historical action between Saint Lucia and Venezuela. The hero of the Venezuelan Independence and Saint Lucian Martyr Jean Baptiste Bideau saved the life of Liberator Simon Bolivar, on the beaches of Ocumare de la Costa in Venezuela, on July 14, 1816.
On this occasion, the event took place in Desruisseaux (the birthplace of Bideau) in the southern community of Micoud. The Venezuelan film: "Bolivar: The Man of Difficulties" which is a combination of drama, romance and adventure was screened. The film was directed by Venezuelan director and filmmaker Luis Alberto Lamata, responsible for recounting the most interesting chapters of Venezuelan history on the small screen.
The Venezuela Ambassador here, Leiff Escalona, expressed her appreciation to those present, especially the members of the Bideau family, for answering the call to commemorate this event and for sharing information on this unheralded Saint Lucian hero – Jean Baptiste Bideau – who played a key role in the independence struggles of Venezuela.
Similarly, the Venezuelan Diplomat said that July 14h marked the 200th anniversary of a momentous act of great historical importance, since the life of Simon Bolivar at such a young age, problably the dream of the Freedom of Venezuela and in great part South America, could have come to an end
"Only the leadership and futuristic vision of Bolivar could channel the various existing factions, characters and personalities of other great leaders who accompanied Bolivar in this dream for Freedom," she said.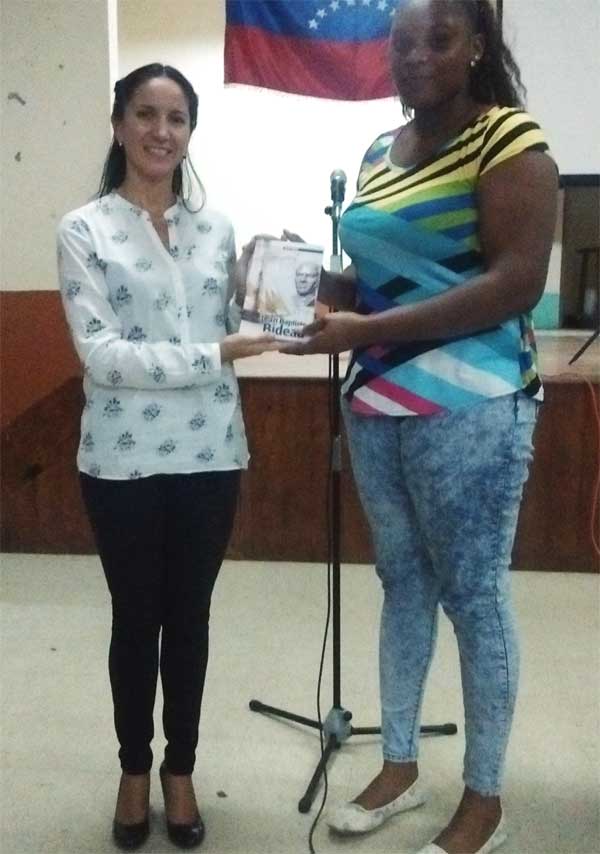 She then made a brief introduction of the film "Bolivar: The Man of Difficulties" which is based on one of the most dramatic periods in the life of the Liberator, the years of 1815 and 1816. During that period Venezuela was at war, the country was divided when the Second Republic fell on its second attempt to consolidate independence.
Upon completion of the screening, the Ambassador made a donation of 20 books titled "Jean Baptiste Bideau an Unknown St. Lucian Hero" by the writer and historian Paul Verna (written in English and in Spanish) to the representatives of the Jean Baptiste Bideau Committee (comprised the Bideau descendants).
In concluding, Ambassador Escalona stated that "Simon Bolivar and Jean Baptiste Bideau fought together on behalf of the Latin American and Caribbean integration, unfailingly accompanied by dreams of freedom of our peoples."
Before the event ended, one of the members of the Bideau Family presented to the Diplomatic Mission with a token of appreciation, which was a painting by a family member, in gratitude for the recognition and solidarity shown towards Jean Baptiste Bideau, an unknown hero from Saint Lucia.